There Shouldn't Be Trailers For 'Star Wars: Episode 8', Says Adam Driver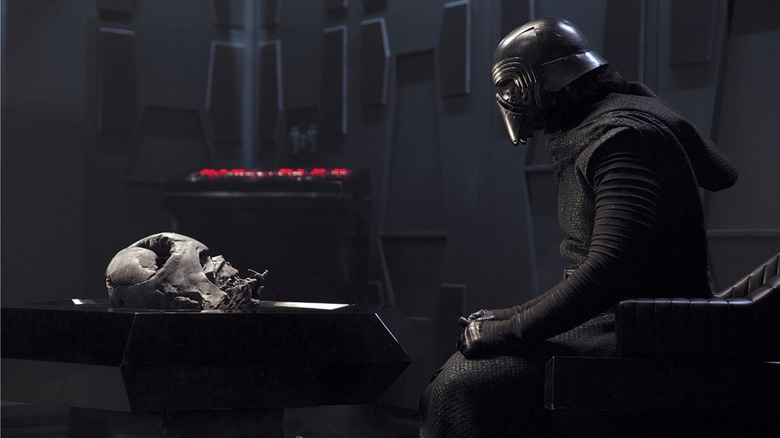 We are almost a year away from Star Wars: Episode 8 and we don't even have a title for the Star Wars sequel. Don't expect to see a trailer attached to Rogue One: A Star Wars Story, which hits theaters later this week. And if you asked Kylo Ren himself, there wouldn't be an Episode 8 trailer at all. Hit the jump to find out what Adam Driver said about the marketing for the eighth Skywalker saga film.
While promoting Martin Scorsese's Silence, CinemaBlend asked Adam Driver about the Star Wars Episode VIII trailer, and the actor agreed that it would be best if Disney didn't even release a trailer:
I think that'd be bold. I'd love it, yeah! Then no one would know anything. The less people know, I feel like, the more exciting... the more of an event it is.
It's a fun idea, but it will never happen, especially with a huge budget movie like this. Anyone in a marketing department will tell you how television advertising for movies is one of the biggest drivers to the box office. And a big tentpole franchise blockbuster like this has so many merchandise and partner tie-ins that require footage and images.
If you want to see what holding back looks like, take a look back at the marketing leading up to Star Wars: The Force Awakens. Director JJ Abrams tried his best to keep Disney from revealing as much as possible in the marketing, and still we saw a whole lot leading up to the release of that movie. And I don't think we'll ever see a more reserved Star Wars marketing campaign.
But now that Rogue One is hitting theaters, it's now time to start theorizing about when Disney will release the first Star Wars 8 teaser trailer. Remember, the first teaser for The Force Awakens was released on Big Hero 6, more than a year before the release. Could they wait until March to release it on Beauty and the Beast? There is no way they will hold back until May's release of the new Pirates of the Caribbean sequel. Disney has also been premiering a lot of stuff in conjunction with big sporting events on ABC, so it's possible they might take a similar approach when debuting the teaser for Episode VIII.