The Muppets 'Pigs In Space' Reboot Parodies 'Alien'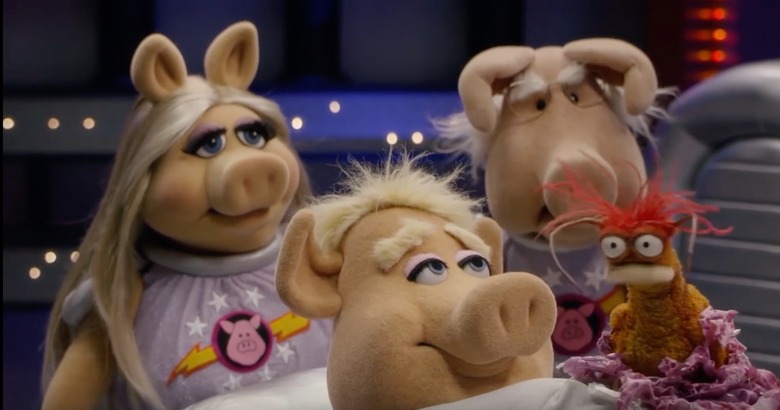 I'm not entirely sure what is going on with The Muppets right now. The 2011 film The Muppets starring Jason Segel and Amy Adams put the Jim Henson-created puppet ensemble back in the mainstream. Sadly, the 2014 follow-up Muppets Most Wanted seemed like ten steps back. It lacked everything that was great about the previous film and instead tried to imitate some of the later not-so-good Muppet movies. Muppetvision 3-D has been removed from Disneyland Resort's Disney California Adventure theme park while the franchise attempts to reboot the Muppet Babies to hopefully help indoctrinate a new generation with Kermit, Miss Piggy, and their friends.
So where does that leave the franchise? It looks like Disney hopes to continue The Muppet brand through online digital short films. A new Muppets short film has been released on YouTube. The first episode of Pigs In Space in more than 20 years takes on Alien. Hit the jump to watch it now.
Pigs In Space: Alien: Look Who's Coming To Dinner
While I was a huge Muppet Show fan as a kid, I never liked the Pigs in Space segments very much. It might be that Miss Piggy was my least favorite character growing up, or that I had yet to fall in love with Star Trek. But it makes sense that Disney is relaunching the segment as a digital series, now that we live in a world of Star Wars and Star Trek movies. Although, it does seem weird that they are trying to relaunch Pigs In Space to a new generation with a parody of a 1979 film. I'm not complaining.
The official plot synopsis for the new Pigs In Space follows:
At long last, the legendary S.S. Swinetrek returns in the first all-new episodes of the epic "PIGS IN SPACE" saga in more than 20 years! Join First Mate Piggy, Captain Link Hogthrob, and Dr. Julius Strangepork as they match wits with an annoying alien stowaway who really knows how to get under your skin.
No word on when additional episodes of Pigs In Space will be released.