'Rogue One' Videos Galore: IMAX TV Spot, Two Movie Clips & Two New Featurettes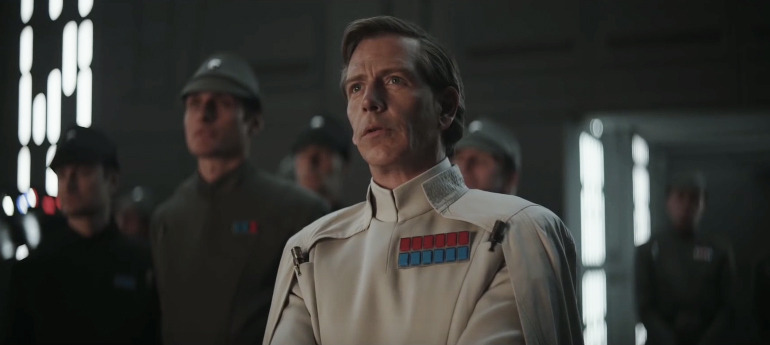 It's almost time for Rogue One: A Star Wars Story. The early buzz on the movie hit the web over the weekend once the world premiere of the movie in Los Angeles was over, and full reviews will start hitting the web on December 13th. In the meantime, if you're still soaking up as much Rogue One footage as you can, we have a batch of new videos for you to check out.
After the jump, check out a new Rogue One IMAX TV spot, a couple of clips that debuted when the cast of the film appeared on Jimmy Kimmel Live before the weekend, and two featurettes going behind the scenes of the Star Wars spin-off. Watch all those videos after the jump!
First up, here's the new Rogue One IMAX TV spot with some awesome Director Krennic moments:
In addition, the cast of Rogue One stopped by Jimmy Kimmel Live, and while talking about making the movie and all the hype surrounding it, they debuted two new clips. The first one is right at the beginning of the next video before the cast goes on to talk about their own excitement for the movie:
Another clip from Jimmy Kimmel Live has the cast talking about what they stole from the Rogue One set as a keepsake, and then around the 3:18 mark there's another new clip from the movie for you to check out:
And finally, here are two new featurettes focusing on K-2SO and the new paradise planet Scarif:
We're getting down to the wire with Rogue One promotion, so we'll do our best to keep anything that feels like it might be a spoiler from appearing here until after the movie hits theaters. Even then, we'll be sure to keep any spoilery discussion from the front page so as not to hurt anyone not seeing the movie opening weekend. But if you're not seeing it right away, what kind of Star Wars fan are you?
From Lucasfilm comes the first of the Star Wars standalone films, "Rogue One: A Star Wars Story," an all-new epic adventure. In a time of conflict, a group of unlikely heroes band together on a mission to steal the plans to the Death Star, the Empire's ultimate weapon of destruction. This key event in the Star Wars timeline brings together ordinary people who choose to do extraordinary things, and in doing so, become part of something greater than themselves.
Rogue One: A Star Wars Story" is directed by Gareth Edwards and stars Felicity Jones, Diego Luna, Ben Mendelsohn, Donnie Yen, Mads Mikkelsen, Alan Tudyk, Riz Ahmed, with Jiang Wen and Forest Whitaker. Kathleen Kennedy, Allison Shearmur and Simon Emanuel are producing, with John Knoll and Jason McGatlin serving as executive producers.
Rogue One: A Star Wars Story hits theaters on December 16.