'Silence' Reviews Round-Up: Is Martin Scorsese's Passion Project Worth The Wait?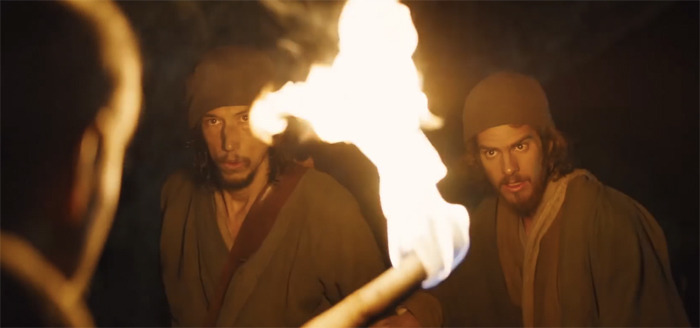 Director Martin Scorsese has been trying to get his adaptation of Japanese author Sh?saku End?'s novel Silence off the ground for over 20 years. Now the film is finally hitting theaters later this month, and the first reviews have hit the web.
The film isn't in line with the kind of movie more casual moviegoers are used to getting from Martin Scorsese, who is better known for movies like The Departed, The Wolf of Wall Street, Gangs of New York, Raging Bull, Taxi Driver and GoodFellas. But that doesn't mean it doesn't have the same high quality we've come to expect from the filmmaker as he crafts something more along the lines of his films such as The Last Temptation of Christ and Kundun.
If you haven't kept up with the development of Silence, the film follows two 17th-century missionaries (played by Andrew Garfield and Adam Driver) as they face the ultimate test of faith when they travel to Japan to find their missing mentor (Liam Neeson). So how did Martin Scorsese's long-gestating passion project pan out? Read some of the first Silence reviews after the jump.
Robert Abele over at The Wrap praises the film overall while noting one particular shortcoming:
The wait for Martin Scorsese's adaptation of Sh?saku End?'s 1966 novel "Silence," about a pair of Portuguese missionaries on dangerous footing in Christian-unfriendly 17th century Japan, has been so long that the eventual offering has an unmistakably devotional air. That isn't always a good thing, but it mostly is: it's an invitingly austere movie, designed for both searching believers and curious others. The film can be cinematically rigorous, but it's never ritualistically flashy.
But after years of kneeling at the altar of Oscar-bait filmmaking ("The Aviator," "The Departed") and operatic entertainments ("Shutter Island," "The Wolf of Wall Street"), he's back to demanding and obviously personal filmmaking. Co-adapted with Jay Cocks, "Silence" deals explicitly with the pain of doubt, God's silence in the face of suffering, and apostasy versus martyrdom; it's a welcome change of pace, even if it's not always effectively rendered.
Peter Debruge at Variety points out plenty of flaws in the film, but also finds it rather admirable:
And yet, judged in broadly cinematic terms, "Silence" is not a great movie, despite having been directed by one of the medium's greatest masters at a point of great maturity (this is the last film one might expect to immediately follow the bacchanalian excess of "The Wolf of Wall Street"). Though undeniably gorgeous, it is punishingly long, frequently boring, and woefully unengaging at some of its most critical moments. It is too subdued for Scorsese-philes, too violent for the most devout, and too abstruse for the great many moviegoers who such an expensive undertaking hopes to attract.
Still, viewed through the narrow prism of films about faith, "Silence" is a remarkable achievement, tackling as it does a number of Big Questions in a medium that, owing to its commercial nature, so often shies away from Christianity altogether. Considering the dominant role religious belief plays in the lives of so many, it's surprising, even scandalous, that so few films face the subject head-on. "Silence" is the largest, most serious-minded examination of faith since Terrence Malick's "The Tree of Life," rounding out a trilogy on the subject from the director of "Kundun" and "The Last Temptation of Christ."
Todd McCarthy from The Hollywood Reporter praises the movie's unwavering focus on its theme, but doesn't necessarily see it being appealing to a large audience:
In the long-gestating Silence, [Martin Scorsese] has arguably made his most focused and searching exploration of the subject that has been both an explicit and implicit driving force behind many of his films. Not all dream projects turn out well, but this one comes within shouting distance.
The film is shot in a restrained, classical style, with very few of the director's virtuoso camera and editing moves. It's also resolutely, even single-mindedly focused on its central theme, creating an unvarying dramatic temperature and tone that is only relieved somewhat in the second half. Scorsese's reputation and some strong critical support will assure interest among discerning big city audiences for this Paramount release, but the work's grim nature and imposing length will likely keep the masses away.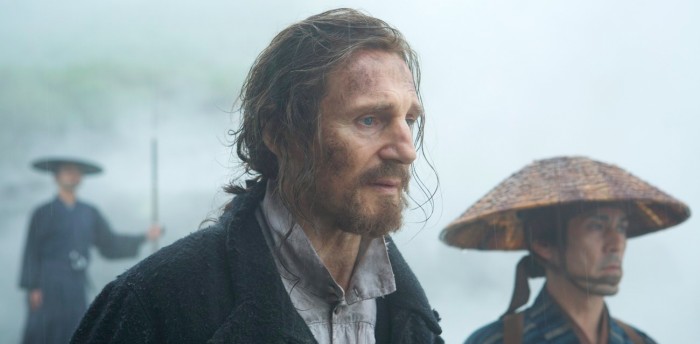 Robbie Collin from The Telegraph notes that this is a movie as only a filmmaker like Scorsese could pull off:
That Scorsese could have made this plangent, scalding work of religious art so soon after The Wolf of Wall Street is inconceivable. Based on a 1966 novel, Chinmoku, by the Japanese Catholic writer Shusako Endo (already masterfully adapted once for the screen in 1977 in its original language by Masahiro Shinoda), it's as soul-pricklingly attuned to matters transcendent and eternal as that previous film was drenched in the short-lived and sticky pleasures of the profane.
It's the kind of work a great filmmaker can only pull off with a lifetime's accrued expertise behind him.
Ian Freer at Empire says:
If the film is steeped in Japanese cinema like Mizoguchi and Kurosawa, it also bears strong ties to European heavyweights. It is a rare American film that can stand intellectually with Ingmar Bergman but Scorsese doesn't flinch from the big questions: chiefly why does God remain silent as believers are drawn into cruelty in His name? As such, it's a slow, tough watch. Sometimes Scorsese overplays his hand (Garfield's reflection in a stream morphs into Jesus) but this is the director working without his usual arsenal. Save a twisty-turning Cape Fear camera move at a crucial point, there's little in the way of trademark visual pyrotechnics, razzle-dazzle editing or intrusive music. It's as if Scorsese doesn't want anything to detract from his story.
Eric Kohn at Indiewire sings the film's praises, but notes that it's not quite one of Scorsese's best:
By no means a masterwork, "Silence" nevertheless displays the first-rate craftsmanship. However, it's a surprisingly subdued approach to a story filled with vicious struggles involving men wandering the wilderness at their wits' end, avoiding perils such as torture by boiling water and decapitation. (Even so, it's less violent than the 1971 version; both are adapted from Shusaku Endo's book.) "Silence" is a haunting, immersive experience that, were it not for a handful of flaws, would rank among the director's grandest epics.
Joshua Rothkopf from TimeOut adds his two cents on the film:
Like much of Scorsese's work, Silence is consumed with doubt, ego and sacrifice—this time, of black-robed Portuguese missionaries in a foreign land, one that ends up breaking them. But the refinement here is something else. Based on a 1966 novel by Shûsaku Endô, Silence is a project Scorsese has obsessed with for close to 30 years, and you notice that: It looks and feels lean, with no wasted gestures, only inward agony. It's his most mature movie, almost completely free of comic relief yet vibrating with passion and, provocatively, an apocalyptic sense of conviction burning to the ground.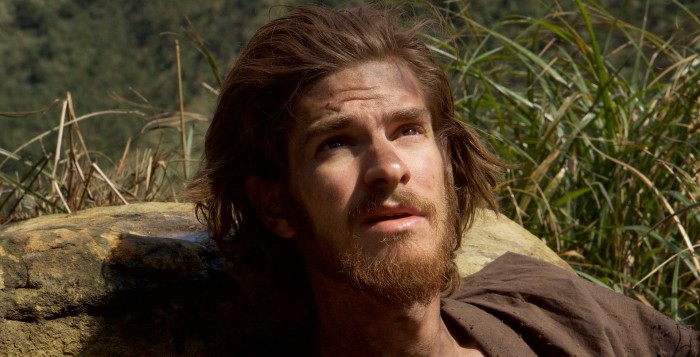 Brian Formo at Collider calls the movie astounding, but says it will require more than brief reflection afterwards to appreciate it:
Silence is a patient film and it's very much about how Rodrigues' spiritual journey runs astride nations converging. Universal truths no longer exist in the convergence of cultures. There's a sadness to that awareness, but faith does become much more personal.
It's obviously very personal for Scorsese, too. The auteur has lived with this narrative in between other projects for nearly three decades, and he's made an astounding passion project. It is beautifully shot, precisely paced, and perfectly acted. There's even some tragic humor (in Rodrigues' constant Judas, his untrustworthy and emotionally broken guide, played by Yôsuke Kubozuka). But like any great cinematic journey, the destination only begins to fully reveal itself long after you've left the theater.
Finally, Keith Phipps at Uproxx succinctly praises Scorsese and his primary cast when he says:
Much of the film rests on Garfield's shoulders and he's more than up to the task, conveying the subtle shifts in Rodrigues' psyche, often without the benefit of dialogue. Neeson's a particular stand-out here. When his character returns, it's as if the actor has hollowed himself out. Everything we expect from Neeson on screen — sturdiness, confidence — has been scraped away.
The strongest presence, however, is Scorsese. Silence fits nicely beside The Last Temptation of Christ and Kundun, two equally unsparing looks at faith. It's also a movie no other filmmaker could have made, even if it's in many respects one of the most stylistically restrained films he's made. Scorsese chooses his shots carefully and edits sparingly here, letting scenes play out to better capture moments of contemplation and suffering, and how one is sometimes unmistakable for the other. Scorsese watches as his characters grapple with faith, as if it's an act with which he has a rare sympathy. It's the work of a man who's still struggling, and who's found a kind of peace in understanding that the struggle never stops.
***
There's also plenty more praise for the performances of Adam Driver, Andrew Garfield and Liam Neeson in the movie, though some reviews wonder if the movie might have been better served by having Driver and Garfield swap roles. But many more reviews noted that the Asian cast, which includes Yosuke Kubozuka, Yoshi Oida, Shin'ya Tsukamoto and Tadanobu Asano, is one of the film's more subtle crowning achievements.
Silence sounds like it certainly won't be a movie for everybody, especially Scorsese's more casual fans who love his movies for their violence, profanity and dark comedy. Instead, this movie is far more reflective, mature and personal for a filmmaker who attended seminary school for a short period of time with the intent of becoming a priest himself. Thankfully, that's exactly what I'm looking for out of this movie, so I'll be there as soon as it's playing in my area.
You can watch the Silence trailer right here if you haven't already, and the film hits limited theaters on December 23 before expanding wide on January 6.