'An Inconvenient Truth' Sequel Is Premiering At The 2017 Sundance Film Festival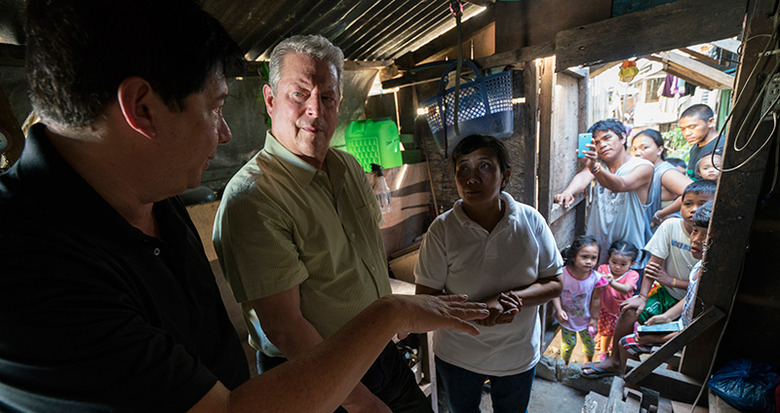 It's been over 10 years since An Inconvenient Truth debuted at the Sundance Film Festival, played at theaters around the world, and then won the Academy Award for Documentary Feature. The film from director Davis Guggenheim followed former vice president and presidential candidate Al Gore on the lecture circuit as he campaigns to raise public awareness of the dangers of global warming and calls for immediate action to curb its destructive effects on the environment.
Well, here we are over a decade later, and global warming is still a problem that is getting worse all the time. That means it's time for An Inconvenient Truth sequel, and Paramount Pictures will be bringing it back to Sundance, where the first film debuted back in 2006. Find out more after the jump.
Paramount Pictures officially announced An Inconvenient Truth 2, which doesn't yet have an official title, and it will be one of the opening night films of the 2017 Sundance Film Festival next month. The studio says the follow-up "shows both the escalation of the crisis and the real solutions we have close at hand."
This time the global warming documentary is being directed by Bonni Cohen and Jon Shenk, who delivered the documentary Audrie & Daisy last year, a film about two cases of sexual assault of teenage girls (you can watch it on Netflix right now). But Al Gore is still at the center of the documentary, and he says in the press release for the movie:
"Now more than ever we must rededicate ourselves to solving the climate crisis. But we have reason to be hopeful; the solutions to the crisis are at hand. I'm deeply honored and grateful that Paramount Pictures and Participant Media have once again taken on the task of bringing the critical story of the climate crisis to the world."
The directors had their own publicity quote to go along with the news, saying:
"It has been our honor to work with Participant on the follow-up to An Inconvenient Truth.  Climate change is the story of our time and following Al Gore during this critical moment in history has been both sobering and incredibly inspiring.  We couldn't be more excited to have Paramount taking the film out to a wide audience around the world."
Following its debut at the 2017 Sundance Film Festival, Paramount Pictures will give the documentary sequel a wide release at an unknown date later in the year. If it gets the same amount of exposure that the first documentary did, then the message should reach plenty of people, but they have to be willing to listen again too. We'll likely catch the film at Sundance next month, so stay tuned for our coverage.