Tim Miller Clears Up Rumors About Leaving 'Deadpool 2'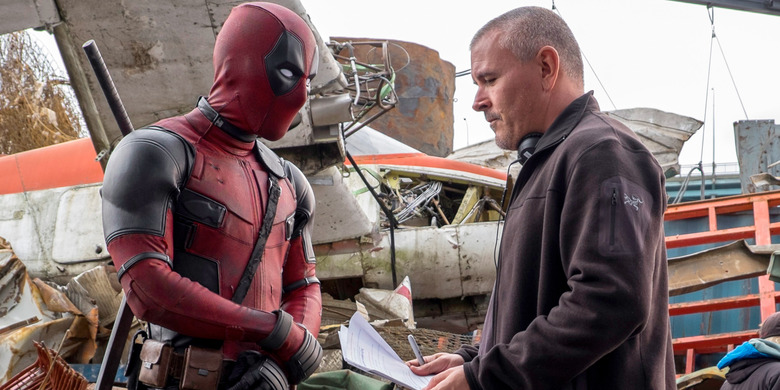 It's unfortunate Tim Miller isn't returning to the director's chair for Deadpool. Following his departure, rumors began to swirl around about why 20th Century Fox and the director parted ways. A budget dispute was a big rumor, but Miller denies that along with a few other rumors.
Below, Tim Miller talks Deadpool 2 to clear up some of the misinformation out there.
A part of Deadpool's charm is that it's a smaller-scale, character-driven comic book movie without any huge city blocks getting demolished. With the sequel, Miller wanted to stay faithful to the spirit of the first movie in that regard, but the rumor was he wanted to make a big, stylized sequel that cost three times as much as the first film.
During CG Garage's 90 minute interview with Miller and Oblivion director Joseph Kosinski and Miller (via Collider), Miller denied he wanted to make some gigantic sequel:
I just want to say one thing to the geek audience out there, because it's important to me what the geeks and nerds of the world think because they are my brothers and sisters. I didn't want to make some stylized movie that was 3 times the budget. If you read the internet — who cares, really? But for those of you who do, I wanted to make the same kind of movie that we made before because I think that's the right movie to make for the character. So don't believe what you read on the internet.
It was also rumored Miller was eyeing Kyle Chandler (Bloodline) for the role of Cable, and that it was an idea Ryan Reynolds didn't get behind, but that's also untrue. "All this stuff that I read kind of kills me," Miller said.
In a recent interview with GQ, Reynolds hinted at some creative disagreements on Deadpool, especially in post-production. The actor called Miller "brilliant," and said that "nobody worked harder on Deadpool than he did," but he also said making the movie was "very, very difficult."
Miller doesn't make the disagreements in post sound as serious as Reynolds did. The director went on to say he had a ball making Deadpool:
Even when some people go, "The movie was really hard to make." The movie was a joy to make. I think you see it on screen. We all had such a good time. We had a few arguments in post, but nothing more than usual. The crew was so great, everybody was going to come back and we were going to have such a good time and the idea that it was a difficult movie...It wasn't, it was a joy, and it was the best experience of my life.
Moving forward, Miller wishes 20th Century Fox and all involved nothing but the best.
I wish them nothing but good — I hope it's great. I hope it's a great movie. Because I love the character and I think it's great, and I love all the actors and I want to see them successful again. I haven't met [director] David [Leitch], but he's a great guy from everything I've heard. I want nothing but the best for the character. And for Fox, too. They deserve to make more money. They need to make more money [laughs]. They were great. They were terrific.
John Wick director David Leitch is attached to direct the sequel. Screenwriters Rhett Reese and Paul Wernick returned to write the film, which, according to Reynolds, they're not making any bigger than it needs to be. In his interview with GQ, he wouldn't comment on the disagreements that led to Miller's exit, but he concluded: "All I can really add is that I'm sad to see him off the film. Tim's brilliant and nobody worked harder on Deadpool than he did."Deadpool 2 is expected to open in theaters in 2018.