'Sherlock' Season Four Trailer: Sherlock And Watson Return For A Dark Season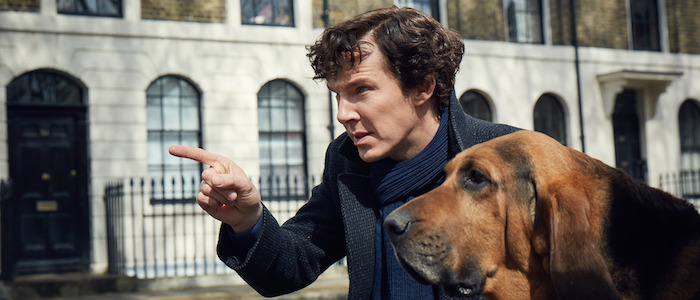 It's been almost three years since the third season of Sherlock. Fans were treated to a Victorian-era special episode, Sherlock: The Abominable Bride, at the beginning of the year, but Sherlock Holmes (Benedict Cumberbatch) and Doctor Watson (Martin Freeman) are finally about to return for a full season. Starting next month, they're back on the BBC in the UK and on PBS in the United States on January 1st, but you can also find them in theaters for the series finale.
Below, watch the Sherlock season four trailer find out where you can see the finale in theaters.
Co-creator Steven Moffat has previously said this is the darkest season of Sherlock, and that looks to be the case. Here's the trailer for Sherlock season four, which features the great Toby Jones (Berberian Sound Studio) who's playing a villain, Culverton Smith, this season (which premieres January 1st):
Cumberbatch has suggested season four might be the last of BBC's Sherlock. "It might be the end of an era," he told British GQ. "It feels like the end of an era, to be honest. It goes to a place where it will be pretty hard to follow on immediately." The actor added he'd love to keep playing the character, but it sounds like there's a finality to season four that sits right with a busy Cumberbatch, although Moffat has stated he'd be a little surprised if the upcoming season is the end.
If the season four finale is also the Sherlock series finale, then there's more reason for fans of the show to check out an upcoming Fathom Events' screening. On Monday, January 16, 2017, and on Wednesday, January 18, 2017, the season finale is showing at 7:00 p.m. Fans will get to see 15 minutes of exclusive Fathom Events bonus materials. You can buy tickets for the Sherlock finale, titled Sherlock: The Final Problem, by visiting Fathom Events' site. The episode, like Sir Author Conan Doyle's story, might once again pit the great detective and his partner against criminal mastermind Professor Moriarty (Andrew Scott), but the specifics of the character's return are currently under wraps. The season four finale of Sherlock will play in around 350 theaters.
Here's the official synopsis for Sherlock season four:
Season four begins with the mercurial Sherlock Holmes (Benedict Cumberbatch), back once more on British soil as Doctor Watson (Martin Freeman) and his wife Mary (Amanda Abbington) prepare for their biggest challenge yet: becoming parents.
Sherlock returns to the BBC and PBS on January 1st.