Ben Affleck's Batman Movie Will Arrive Before The Justice League Sequel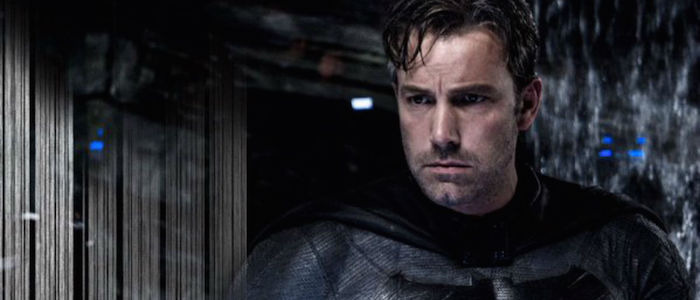 For awhile now, Warner Bros. Pictures has had their release slate for the DC Extended Universe locked down for the next few years with some minor changes here and tehre. However, there has been another change made to the schedule in order to accommodate a movie that wasn't part of the original ambitious schedule for DC Comics movies down the pipeline.
Ben Affleck was cast as Batman in this year's Batman v Superman: Dawn of Justice all the way back in August of 2013, but it wasn't until the following summer that we got word of Warner Bros. developing a new solo Batman movie. Since then the movie has grown to be quite an anticipated project with Ben Affleck working on the script with DC's Geoff Johns as well as getting behind the camera as director.
Now we have an idea of when to expect Ben Affleck's movie, reportedly titled The Batman, in theaters, because one of DC's scheduled superhero movies is being pushed back for it. Find out more about Ben Affleck's Batman movie release date below.
The Hollywood Reporter reveals that Zack Snyder has finally lined up a window to shoot his long-gestating passion project The Last Photograph. The reason he now has time to shoot it is because Justice League 2 has been pushed back in order to make room for the arrival of Ben Affleck's Batman movie. So now let's look at the upcoming schedule of DC Extended Universe movies:
Wonder Woman: June 2, 2017 (Post-production)
Justice League: November 17, 2017 (Filming)
The Flash:  March 16, 2018 (Pre-production)
Aquaman: October 5, 2018 (Pre-Production)
Shazam: April 5, 2019 (In Development)
Justice League 2: June 14, 2019 (In Development)
Untitled DC Film: November 1, 2019 (In Development)
Cyborg: April 3, 2020 (In Development)
Green Lantern Corps: July 24, 2020 (In Development)
Therefore, if Justice League 2 is being pushed back in favor of The Batman, then it would stand to reason that Justice League 2 will now arrive in that empty November 1, 2019 slot and Ben Affleck's Batman movie will arrive on June 14, 2019. That's just an assumption on our part though as no specific dates were given in the THR story where this news originated.
And just so we're clear, Zack Snyder will still be directing Justice League 2, but now he'll just be taking a break from superheroes to direct The Last Photograph in between Justice League movies. If you've never heard that movie, it follows a war correspondent in Afghanistan who is the only one to survive an attack on a group of Americans. When a special ops soldier in search of a family member shows up, the two team up, with the correspondent hoping to score the story of his life. Christian Bale and Sean Penn were previously linked to the project, but now there's no lead in place.
As for The Batman, this is great news for fans who loved what Ben Affleck brought to the table as The Dark Knight in Batman v Superman (he was easily one of the best parts). Previous reports pegged a possible production start for sometime in 2017, and if the 2019 date is real, then that sounds about right.
Of course, Ben Affleck has said the movie doesn't exists until it does, so for now we'll just have to hope that The Batman actually materializes to make this presumed release in 2019, which was actually when it was rumored to be released when rumblings of the project first originated back in 2014. Stay tuned to see how this all pans out.