Live-Action Animated Hybrid 'Puff The Magic Dragon' Movie Coming From 'Trolls' Director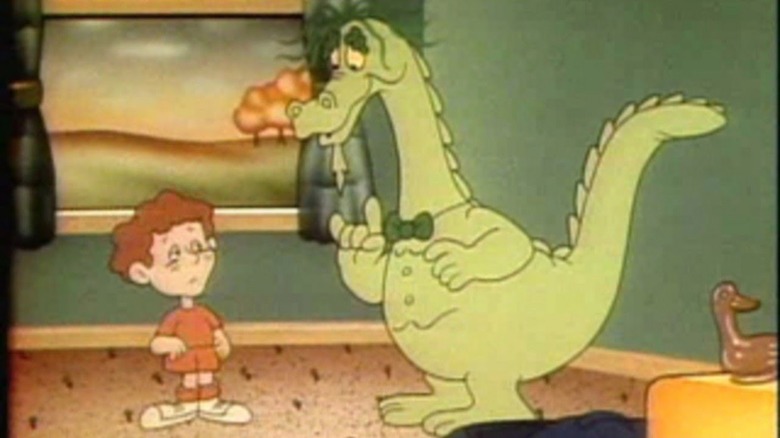 Fox Animation have acquired the rights to turn the Peter, Paul and Mary song Puff the Magic Dragon into a feature film. Trolls helmer Mike Mitchell has signed on to direct the hybrid live action/animated feature which will be produced by Safehouse partners Tory Tunnell and Joby Harold and Weed Road's Akiva Goldsman. Hit the jump to learn more about the planned Puff the Magic Dragon movie.
It's probably no coincidence that this deal comes on the heels of Walt Disney Pictures' release of the Pete's Dragon reboot. As a child, I always confused the two properties, and it seems like Fox is going for a more traditional approach to the material than Disney. The song is one of those incredibly catchy tunes that just burrows its way into your head and stays for days. Deadline reports that the producers have secured the rights to the song, which has lyrics by Peter Yarrow and Lenny Lipton.
The folk song is based on a 1959 poem by Leonard Lipton, which was inspired by an Ogden Nash poem titled "Custard the Dragon." The lyrics of the song, which was recorded and released in 1962, tell the story of the ageless dragon named Puff who lives "by the sea" in the fictional land of "Honalee." His playmate, a little boy, named Jackie Paper, grows up and loses interest in the adventures of childhood and leaves his imaginary dragon to be with himself. The song reached number two on the Billboard Hot 100 chart before a Newsweek article speculated that the song contained veiled references to smoking marijuana, and interpretation which the authors of the song have repeatedly rejected.
An animated television special titled Puff the Magic Dragon, adapted the song, was aired in 1978. It was followed by two sequels, Puff the Magic Dragon in the Land of the Living Lies and Puff and the Incredible Mr. Nobody. In all three films, Burgess Meredith voiced the title character of Puff the magic dragon. It is unknown if the new movie will borrow plot or design elements from these animated films.