'Assassin's Creed' Trailer: Michael Fassbender Has A MacGuffin To Find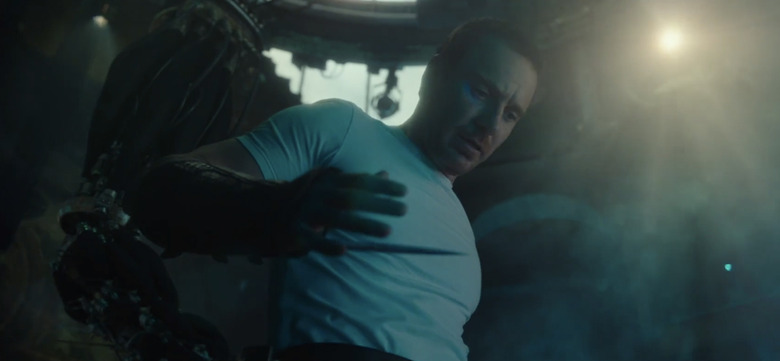 While most of the excitement for blockbusters this month is going to Rogue One: A Star Wars Story next week, 20th Century Fox wants to make sure you don't forget that Assassin's Creed is coming the week after that, just before Christmas. So to make sure you're on board, they've released a new trailer, and it's actually the best one yet, providing a much better idea for the story, including an artifact for Michael Fassbender's character to track down during the time of the Spanish Inquisition.
Watch the new Assassin's Creed trailer after the jump.
While the previous trailers were more concerned with explaining the technology of the machine known as the Animus and the concept of genetic time travel, this one finally digs into the story. Callum Lynch (Fassbender) is being sent back into the mind of his 15th Century Spain ancestor Aguilar to retrieve an artifact known as the Apple of Eden. Fans of the video game know this little item, as it's used to create illusions and control human minds.
The use of the Apple of Eden hints at what might follow in Assassin's Creed sequels. There are several items known as Pieces of Eden, and any movies that come after this one could involve those items. But first, Assassin's Creed has to impress at a competitive holiday box office in order for 20th Century Fox to even consider putting a sequel into development. While this trailer certainly got me more interested in the movie, I wouldn't say that I'm necessarily excited to see it, but I'll give it a whirl.
Through a revolutionary technology that unlocks his genetic memories, Callum Lynch (Michael Fassbender) experiences the adventures of his ancestor, Aguilar, in 15th Century Spain. Callum discovers he is descended from a mysterious secret society, the Assassins, and amasses incredible knowledge and skills to take on the oppressive and powerful Templar organization in the present day.
Assassin's Creed stars Academy Award nominee Michael Fassbender (X-Men: Days of Future Past, 12 Years a Slave) and Academy Award winner Marion Cotillard (The Dark Knight Rises, La Vie en Rose). The film is directed by Justin Kurzel (Snowtown, Macbeth), produced by New Regency, Ubisoft Motion Pictures, DMC Films and Kennedy/Marshall, co-financed by RatPac Entertainment and Alpha Pictures; and distributed by 20th Century Fox.
Assassin's Creed opens in theaters worldwide on December 21.