Cool Stuff: Splendid Pixar Artwork Handpicked By John Lasseter For Gallery Nucleus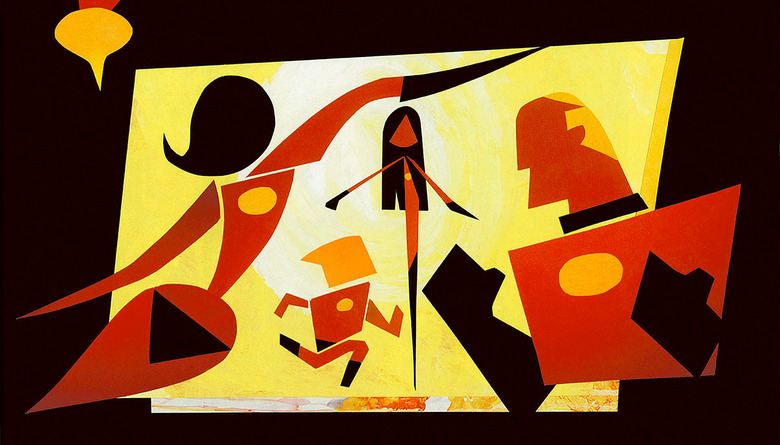 Gallery Nucleus has been host to some pretty cool artwork exhibitions inspired by pop culture. They don't get featured quite as often as Hero Complex Gallery or Gallery 1988 since they don't have new pieces available as frequently, but they still have some incredible artwork. A new exhibition opening this weekend is no different with artwork inspired by each of the films of Pixar Animation, from Toy Story to Finding Dory. There's one for each movie, and what's awesome is that each piece was handpicked by Pixar chief creative officer John Lasseter for the show.
Check out the Gallery Nucleus Pixar artwork after the jump.
Here are all 17 of the pieces picked for the show from Oh My Disney:
Not only are these pieces outstanding (I want The Incredibles art immediately), but some of them are truly special. For example, that simple sketch of Mike Wazowski and James P. Sullivan from Monsters Inc. was created by the film's director Pete Docter.
The other participating artists are Bob Pauley, Tia Kratter, Randy Berrett, Ralph Eggleston, Teddy Newton, Bill Cone, Dominique R. Louis, Lou Romano, Robert Kondo, Harley Jessup, Steve Pilcher, Ricky Nierva, Sharon Calahan and Daniel López Muñoz. Some will even be on hand at the event.
The exhibition has free admission and all ages are welcome when it opens at 7pm on December 10 at 210 East Main St in Alhambra, CA. There you'll be able to get prints of the above art with each one signed and numbered on archival paper with a Certificate of Authenticity.
Some of these prints may be available for sale on the Gallery Nucleus website if there are some leftover after the opening reception, but you'll have to stay tuned to their website to see if you can get them. Each has an edition of 95 (I believe as a tribute to the fact that Pixar's first feature Toy Story debuted in 1995), so it might be hard to get your hands on some of these, but you can certainly try.