New IMAX 'Cloverfield' Movie Announced For October 2017, 'God Particle' Removed From The Release Calendar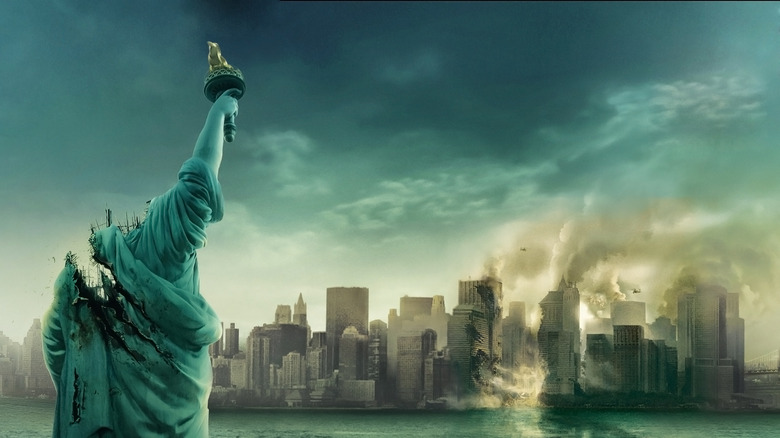 Paramount Pictures has announced that CLOVERFIELD MOVIE (IMAX) will be hitting theaters on October 27th, 2017. At the same time, God Particle which was originally set to hit theaters on February 24th, 2017 has been removed from the schedule. God Particle was believed to be the next film in the Cloverfield anthology film franchise, following off of the success of this year's 10 Cloverfield Lane. While we assume that the new IMAX Cloverfield Movie is God Particle and that the studio has finally renamed it publicly, there is no confirmation on this from Paramount.
I just tweeted the other day that we were less than three months from the release of God Particle and had yet to see a single piece of marketing for the film. It was widely assumed that Paramount would be surprising people with a trailer late this winter, either on Rogue One: A Star Wars Story or attached to Passengers. But now the film has apparently fallen off the schedule.
The Cloverfield movies have traditionally been revealed as surprises attached in front of Michael Bay films. The original Cloverfield teaser surprised moviegoers seeing Transformers. Then 10 Cloverfield Lane was a surprise attached to Michael Bay's 13 Hours. If I were to guess, the first trailer for this new Cloverfield movie would probably be attached to Transformers: The Last Knight when it hits theaters in July.
Julius Onah's God Particle stars David Oyelowo, Gugu Mbatha-Raw, Chris O'Dowd, Daniel Bruhl, Zhang Ziyi and Elizabeth Debicki as crewmembers aboard a space station who find themselves alone after a scientific experiment causes Earth too, apparently, disappear. When another space shuttle appears, the space station crew must determine if those aboard are friendly or enemies.
While many big sources have reported that God Particle is a Cloverfield movie, no one at Paramount has publicly confirmed this. To make matters more confusing, God Particle star Gugu Mbatha-Raw was shocked to hear that her film was supposedly a Cloverfield movie, and claimed not to know how her movie and the other Cloverfield films were connected. I wonder if this new date might mean that Paramount will be doing some additional photography to further connect the movie to the ongoing anthology franchise? It's a science fiction movie set in space, so it's also possible that production needs more time to finish the visual effects.
The new Cloverfield film will open on October 27th, 2017 against Lionsgate's untitled Saw franchise sequel.