'Spider-Man: Homecoming' Trailer: Tom Holland's Peter Parker Swings Into The MCU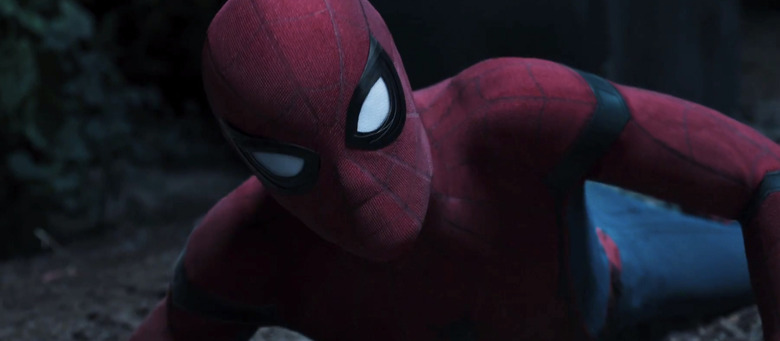 How times change. Just two years ago, everyone was so bummed out by The Amazing Spider-Man 2 that the thought of another movie starring Marvel's wall-crawling superhero felt like a chore. And then Marvel Studios and Sony reached a deal, Tom Holland become the new Peter Parker, and the brand new Spider-Man swung into the Marvel Cinematic Universe as a supporting player in Captain America: Civil War and somehow managed to make us forget about the previous reboot of this character. We superhero movie fans be sheep, but at least we're sheep who know what we want.
After being teased the other day, the first Spider-Man: Homecoming trailer has officially arrived, giving us our first look at the first solo adventure of the new Spidey.
In addition to Holland, Spider-Man: Homecoming will also feature the great Michael Keaton as the winged villain known as Adrian Toomes (better known as the classic Spider-Man villain, the Vulture), Jon Favreau as "Happy" Hogan (finally breaking out of the Iron Man movies), and Robert Downey Jr. himself as Tony Stark, who seems to be making a habit out of arming his young superhero protege with expensive technology. Donald Glover plays an unspecified role while Bokeem Woodbine plays an unspecified villain.
Here's the Spider-Man Homecoming trailer:
Here's a second international trailer with even more footage:
While Marvel Studios has developed a fine-tuned engine that has turned making solid comic book adaptations into a science, Spider-Man: Homecoming is a massive step upwards for director Jon Watts, who won the gig on the strength of his (very good) 2015 thriller, Cop Car. The best Marvel Studios films are those that hit the usual beats while also carrying a piece of the filmmakers' souls (see: Guardians of the Galaxy, The Avengers, Iron Man 3, and Doctor Strange), so hopefully Homecoming will be as much a Watts movie as it is a Marvel movie.
A young Peter Parker/Spider-Man (Tom Holland), who made his sensational debut in Captain America: Civil War, begins to navigate his newfound identity as the web-slinging super hero in Spider-Man: Homecoming.  Thrilled by his experience with the Avengers, Peter returns home, where he lives with his Aunt May (Marisa Tomei), under the watchful eye of his new mentor Tony Stark (Robert Downey, Jr.). Peter tries to fall back into his normal daily routine – distracted by thoughts of proving himself to be more than just your friendly neighborhood Spider-Man – but when the Vulture (Michael Keaton) emerges as a new villain, everything that Peter holds most important will be threatened.
Spider-Man: Homecoming also stars Jacob Batalon as Peter's high school chum Ned Leeds, Laura Harrier as Liz Allan, Tony Revolori as Flash Thompson, and Zendaya as a secretive classmate whose identity may not be what it seems. The film is set to open on July 7, 2017.