'Baywatch' Trailer: Dwayne Johnson & Zac Efron Must Restore The Baywatch Brand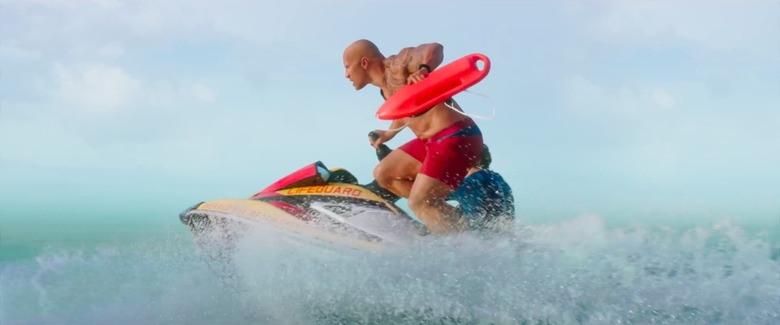 Paramount Pictures has dropped the first trailer for Baywatch, the big-screen adaptation of the 1990s TV series about scantily clad hotties running in slow motion. But this isn't that Baywatch. Yes, there are still super attractive people hanging out on a beach in skimpy swimwear. But this one is much more in the vein of 21 Jump Street the movie, starring Dwayne Johnson and Zac Efron as a pair of mismatched lifeguards who set out to "restore the Baywatch brand." Ha ha, get it?
Alexandra Daddario, Kelly Rohrbach, Jon Bass, and Ilfenesh Hadera play some of the other lifeguards surrounding them, and Seth Gordon (Horrible Bosses) directs. Watch the first Baywatch trailer below.
Baywatch Trailer
When Peter caught a sizzle reel at CinemaCon, he was unimpressed by the number of hard-R boob and ball jokes. That doesn't really seem to have changed in the full-length Baywatch trailer. It's not that the jokes are especially gross or offensive, they just don't seem terribly sharp or original. ("Guy can't stop staring at boobs" is a gag that's been around since boobs were invented.) But the cast seems to work well together, which helps make up for some of the lack of creativity.
It's clear that this movie wants very badly to be 21 Jump Street (the movie, not the show), and from here it seems like a reasonable enough approximation. Johnson is a reliably appealing presence, and Efron is leaning into the douchey frat bro persona he perfected in the Neighbors movies. They look sexy running around the beach in their swimsuits, and so do their co-stars. There's a sprinkling of meta humor, but thankfully not too much. And some of the action even looks pretty good, more like something out of Johnson's San Andreas than your typical summer comedy. Baywatch probably won't blow anyone's minds, but as far as splashy summer entertainment goes, it looks like a good time.
Baywatch is in theaters May 19, 2017. Not that you really need it at this point, but here's the synopsis:
BAYWATCH follows devoted lifeguard Mitch Buchannon (Johnson) as he butts heads with a brash new recruit (Efron). Together, they uncover a local criminal plot that threatens the future of the Bay.