'A United Kingdom' Trailer: David Oyelowo And Rosamund Pike's Royal Romance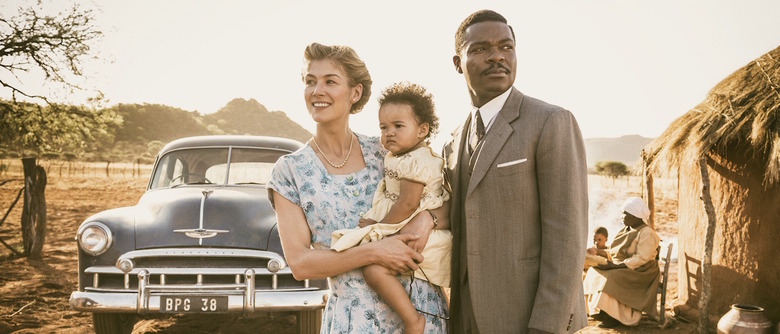 If you find yourself in the mood for love next February but aren't really feeling the kinky thriller vibe of Fifty Shades Darker, consider waiting a week for A United Kingdom. The new drama by tells the story of Seretse, the king of Bechuanaland (present-day Botswana), who meets and falls for Ruth Williams, a white commoner from England. But don't mistake this for a fairy tale. A United Kingdom is rooted in real-life history and chronicles not just the sweet, sweeping romance between the couple, but also the controversy and hardships that follow after Seretse and Ruth decide to marry.
David Oyelowo and Rosamund Pike play the central couple, so you know A United Kingdom will be incredibly well acted, and Amma Asante (Belle) is behind the camera, so you know it will also be beautifully directed. A new trailer has just arrived thanks to Fox Searchlight, and you can check it out below.
A United Kingdom Trailer
A United Kingdom had its world premiere in Toronto a few months ago, to mostly positive reviews. The Guardian approvingly noted that "it is Asante's talent for making the personal political – and vice versa – that is the real story here. Similarly, Empire was pleased to see that Asante "finds personal moments amid the political storms and emphasizes Ruth's less headline-grabbing struggles in her new home." On the flip side, Variety was disappointed to find that the movie "treats their love story like a Disney princess movie, reducing the drama to a series of polite disagreements between the couple and the cardboard officiates who opposed their union."
A United Kingdom is in theaters February 17, 2017. February in general is going to be a big month for Oyelowo — he's also got God Particle coming out just a few days later on February 24.
A UNITED KINGDOM is the true story of the forbidden love of King Seretse Khama of Botswana (David Oyelowo) and Ruth Williams (Rosamund Pike), a white woman from London, which caused an international uproar when they decided to marry in the late 1940s just as apartheid was being introduced into South Africa. It was a decision that altered the course of African history.