'Little Shop Of Horrors' Remake In The Works, Greg Berlanti To Direct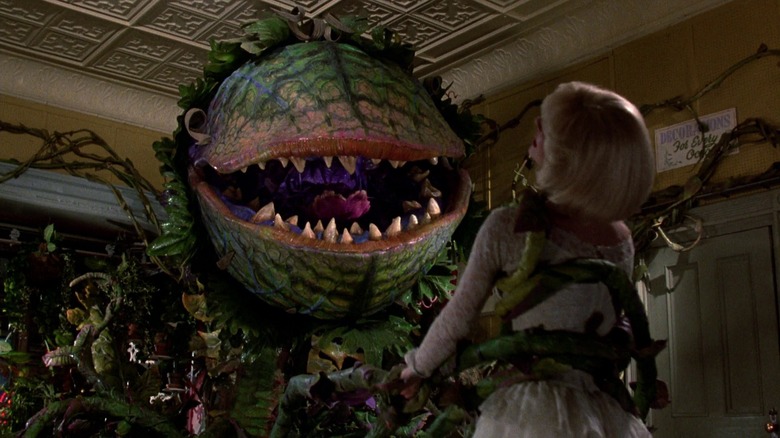 Greg Berlanti is currently busy masterminding The CW's thriving DC superhero universe, but like all his superheroes, he's got another gig on the side that's got nothing to do with superhero-ing. He's just been set to direct the remake of Little Shop of Horrors, Frank Oz's 1986 musical about a plant that eats people. Deadline reports Warner Bros. is moving forward with their new version of Little Shop of Horrors, with Berlanti at the helm and Matthew Robinson (The Invention of Lying) writing the script. Marc Platt (La La Land) is producing. Like the 1986 movie, new version will be a musical.
Oz's film starred Rick Moranis as a nerdy florist who comes into possession of a mysterious plant during a solar eclipse. He soon discovers the plant, which he has named Audrey II, has a taste for human flesh. As it thrives, the plant becomes increasingly bloodthirsty, encouraging Seymour to kill and devouring entire people. Ellen Greene, Bill Murray, Steve Martin, and Jim Belushi also starred, and Levi Stubbs voiced the plant.
The film was based on the 1982 stage musical of the same title by Alan Menken and Howard Ashman, who would later go on to write music for Disney's The Little Mermaid and Beauty and the Beast. And Menken and Ashman's stage musical was itself based on an earlier 1960 B-movie by Roger Corman, which featured a young Jack Nicholson in a supporting role. Berlanti's Little Shop of Horrors will be the third movie version of the story.
Berlanti is most famous for his work on TV. He cut his teeth as a writer and producer on Dawson's Creek and then went on to create the shows Jack & Bobby, Everwood, Eli Stone, No Ordinary Family, and Political Animals. In the past few years he has thrived at The CW, coordinating an entire universe of superhero dramas including Arrow, The Flash, Supergirl, and Legends of Tomorrow. He also serves as executive producer on the network's upcoming "sexy Archie" series, Riverdale.
But he's got some film experience under his belt as well. Berlanti has directed two previous features, The Broken Hearts Club and Life As We Know It, and helped write and produce the 2011 Green Lantern. He also produced Joe Wright's Pan. In addition to Little Shop of Horrors, Berlanti is also cooking up a movie based on the DC hero Booster Gold, and an adaptation of the YA novel Simon vs. the Homo Sapiens Agenda.