'Tomb Raider': Walton Goggins Joins Alicia Vikander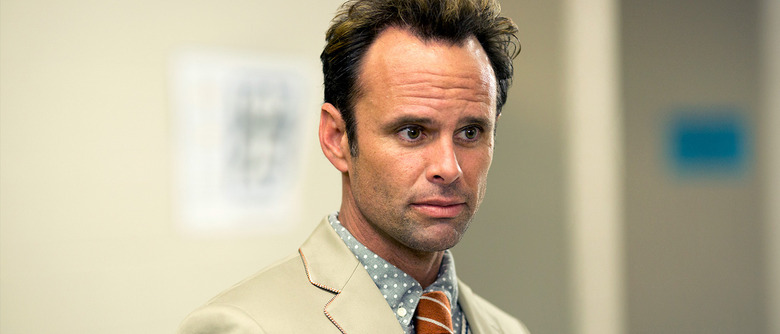 Alicia Vikander is finally getting some company in the Tomb Raider reboot, though her Lara Croft may not be so thrilled about it. Walton Goggins is closing in on the villain role in the video game adaptation, which is being directed by Roar Uthaug (The Wave). 
According to The Hollywood Reporter, Goggins is in final negotiations to join the cast. Aside from the fact that he's a villain, details on his character are being kept under wraps. Goggins has demonstrated a knack for playing nasty and unsavory types in films like Django Unchained and The Hateful Eight and shows like Justified. He was most recently seen in the HBO comedy Vice Principals, where he plays yet another jerk.
The Tomb Raider reboot has been in the works for a while, but really started to pick up steam last year as Uthaug signed on to direct. Vikander was confirmed for the lead role earlier this year. The new Tomb Raider movie will be an origin story, following a young Lara Croft on one of her earliest adventures. Producer Graham King recently revealed that the film would send Lara in search of her father, Richard James Croft:
Well this is kind of what we call a 'back to the roots story'. This is a young Lara Croft in search to see if her father is dead or alive, so it has a very emotional part to it and I think that's what Alicia found so interesting about it. I think the storytelling is really good and I think we've got the right crew and a great director and I think it's going to be really fun making a film like this.
In contrast to earlier films starring Angelina Jolie, King has said the Tomb Raider reboot will be more character-driven:
Listen, the box office [for the Tomb Raider movies], they weren't disasters but I find it interesting that the story that we're telling is really the story before she became Lara Croft, so it is a character piece. It does have a lot of really great characters, but it's a lot of action and a lot of fun, and for me, it's something very different. I've not really done a movie like that before, but I really gravitated to rebooting this franchise and we're going to give it a shot.
Tomb Raider opens March 16, 2018.