'King Arthur: Legend Of The Sword', 'Annabelle 2', 'CHiPs' And More Pushed Back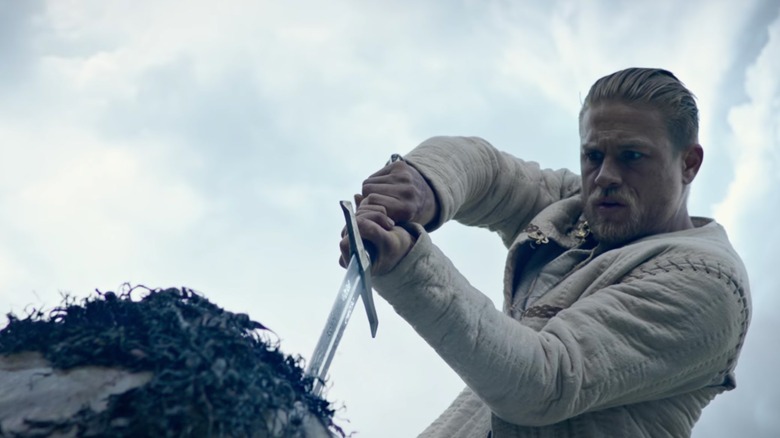 While Warner Bros. has plenty of heavy-hitters like The Lego Batman Movie, Wonder Woman, Justice League, Dunkirk, and Kong: Skull Island coming out next year, they have a few other notable titles that have a chance at success. There's Guy Ritchie's King Arthur: The Legend of the Sword, Dax Shepard's R-rated CHiPs movie, a romance called Everything, Everything, and, a film guaranteed to make some bucks, Annabelle 2 — and these four films all have new release dates.
Below, learn the new King Arthur release date and more.
King Arthur: The Legend of the Sword will now open in theaters on May 12th. The reimagining was originally going to open in theaters this past July, but then Ritchie's film was postponed to February and then to March. Although there's another delay, the May release date is possibly a sign of confidence. It'll face plenty of competition, though, with Guardians of the Galaxy Vol. 2 opening a week earlier and Alien: Covenant opening a week later.
If the Charlie Hunnam-led adventure film is as enjoyable as Ritchie's last film, The Man from U.N.C.L.E., let's hope it doesn't get lost in the shuffle like that unfortunate summer box-office dud did. It's also going up against Jonathan Levine's (50/50) untitled mother-daughter action comedy starring Amy Schumer and Goldie Hawn, which sounds delightful.
Writer-director Dax Shepard's big screen adaptation of the NBC series CHiPs was scheduled to hit theaters next August, but it's moved up a few months. The comedy has taken King Arthur's old release date, March 24th. The story follows California highway patrol officers and their adventures in crime-fighting. Shepard stars as Officer Jon Baker, the role played by Larry Wilcox, while Michael Peña has Erik Estrada's famous old role, Frank "Ponch" Poncherello.
Annabelle was a huge box-office hit. Globally, the horror movie spinoff made over $250M at the global box-office, and it only cost around $6M. Unlike the first film, Annabelle 2 isn't opening in October; it has a summer release date, August 11th, similar to The Conjuring movies. The sequel is directed by David F. Sandberg, who delivered an often chilling and promising debut this year with Lights Out. Annabelle 2 stars Miranda Otto (The Lord of the Rings) and Javier Botet (Mama).
Last but not least, there's Everything, Everything, a drama/romance about a teen with a rare genetic disorder, severe combined immunodeficiency (SCID). Because of her disease Maddy Whittier, played by Amandla Stenberg, can't leave the house — but that doesn't stop her from falling in love with the new boy next door (Nick Robinson). The adaptation of Nicola Yoon's novel, which opens in theaters May 19th, is directed by Stella Meghie (Jean of the Joneses).