'The Leftovers' Third And Final Season To Premiere Spring 2017 On HBO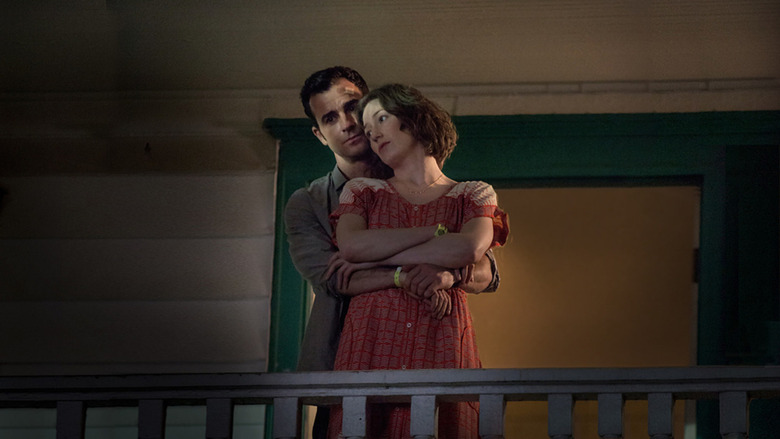 The third and final season of The Leftovers is only four months away. While season one of co-creator Damon Lindelof's drama polarized viewers, season two received much more acclaim, and rightfully so. The second chapter of the Tom Perrota adaptation took the series to trippier, funnier, and more dramatic places. Season two concluded on an incredibly cathartic note, but there's more than likely plenty of struggles left ahead for the Garveys and the Murphys.
Below, learn more The Leftovers season three.
The HBO drama, which was expected to come back this fall, returns next April. An exact date isn't set, but season three is premiering the same time of year a new season of Game of Thrones typically debuts. Returning for the final chapter of The Leftovers are Justin Theroux, Carrie Coon, Margaret Qualley, Kevin Carroll, Regina King, Amy Brenneman, Christopher Eccleston, Liv Tyler, Chris Zylka, Janel Moloney, and Jovan Adepo. Scott Glenn is now a series regular — Lindelof has previously said he'd like to show some of Garvey Sr.'s past — while it's been reported Ann Dowd will not return as Patty.
Here's a special message from co-creators Damon Lindelof and Tom Perrota announcing the April premiere.
Watch for a special message from the creators of #TheLeftovers. pic.twitter.com/ttbB9Mo3mN

— The Leftovers (@TheLeftoversHBO) December 6, 2016
Last year we had the opportunity to discuss the ending of The Leftovers with Lindelof. He said they'd design the entire third season around the ending:
The big thing we gotta figure out for season three is: Where are we going to end it? What's the last episode of this series going to be? We'll design the entire season basically building up to that moment. I think there was a very purposeful circularity between seasons one and two, with the 'wherever you go, there you are' theme of it all. We decided to end the second season very similar to the first season. The Garveys felt like they could pick up and go to this place the Departure didn't happen, but lo and behold, the same exact thing happened. The only safe place is the place you're surrounded by the people you love. We can't do that again, and not just because the audience is expecting it, but because we were telling a story about geography in season two, while season three is going to be something else entirely.
A majority of the third and final season was shot in Australia, but there are more scenes left in Jarden, Texas. An HBO promo recently showed Kevin Garvey, in a policeman's uniform and on horseback, in what looks like season two's setting. Kevin Garvey Sr. is in Australia, which is probably why his son and his family go there.