New 'Iron Fist' Photos Feature Danny Rand, Colleen Wing, Claire Temple & More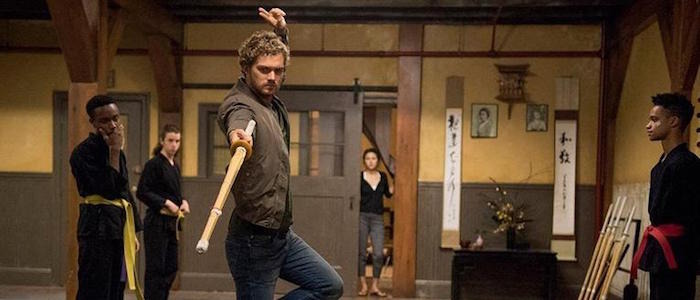 2017 is shaping up to be a very, very good time to be a Marvel fan. Not only are we getting three Marvel movies on the big screen (Guardians of the Galaxy Vol. 2, Spider-Man: Homecoming, and Thor: Ragnarok), we'll get to see three new Marvel shows on Netflix. The first one out that gate will be Iron Fist, starring Game of Thrones' Finn Jones as the mystical martial arts master Danny Rand.
A new batch of photos shows off Jones' take on the comic book character, along with new looks at Colleen Wing (Jessica Henwick), Joy Meachum (Jessica Stroup), Ward Meachum (Tom Pelphrey) — and, of course, Claire Temple (Rosario Dawson), who is the glue holding this entire corner of the MCU together. Check out the latest images below.
IGN premiered the new Iron Fist photos.
Iron Fist has already gotten some flack for casting a white guy in the lead role. Although that choice is true to the source material (Danny is indeed a blond-haired Caucasian dude in the comics), the character was born in a different time. At a time when fans have become much more vocal in protesting Hollywood's lack of diversity, there's something a little obnoxious about a show that borrows heavily from Asian culture but sticks a white American man in the lead. It doesn't help, either, that Iron Fist is coming so hot on the heels of Doctor Strange, which was embroiled in controversy for similar reasons.
But who knows, maybe the show will turn out to be a pleasant surprise. So far, the Marvel Netflix shows have tended to be more gritty and grounded than ABC's Agents of S.H.I.E.L.D. or any of the Marvel movies, but Iron Fist promises add an element of mysticism to that corner of the MCU. Plus, it should be fun to see Colleen Wing in action for the very first time, especially since we already know she'll be crossing paths with her comic book BFF Misty Knight in The Defenders.
All 13 episodes of Iron Fist will debut on Netflix March 17, 2017. The Punisher and The Defenders will also arrive sometime next year on Netflix.
Fifteen years after being presumed dead in a plane crash, Danny Rand (Finn Jones) mysteriously returns to New York City determined to reclaim his birthright and family company. However, when a long-destined enemy rises in New York, this living weapon is forced to choose between his family's legacy and his duties as the Iron Fist.