Exclusive: Mondo Reveals Two New 'Teenage Mutant Ninja Turtles' Posters From Their Nickelodeon Gallery Show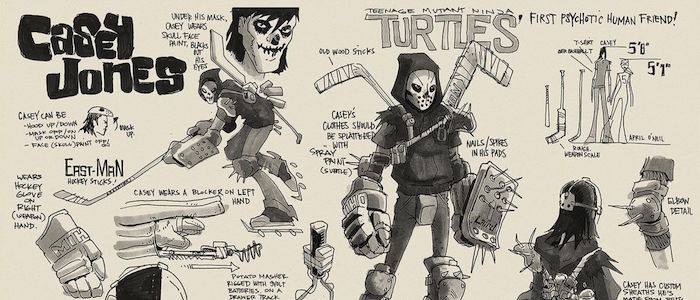 Last week, Mondo announced a gallery show themed around the new and classic shows from Nickelodeon, premiering posters for Ren & Stimpy, Rocko's Modern Life, and Teenage Mutant Ninja Turtles. Today, we're pleased to premiere two new posters from the show, both from Ciro Nieli and both centered around the network's TMNT series and both a significant departure from what you'd expect from a typical pop culture poster.
Unlike most Mondo posters, which find an artist bringing their own unique style to an existing film, television series, or character, Ciro Nieli actually works on Nickelodeon's Teenage Mutant Ninja Turtles as an executive producer, director, character designer, storyboard artist, and occasional voice actor. These posters look to put his designs for characters from the series into poster form, along with notes and descriptions about some of the choices being made.
First up is the Turtles' human vigilante ally Casey Jones: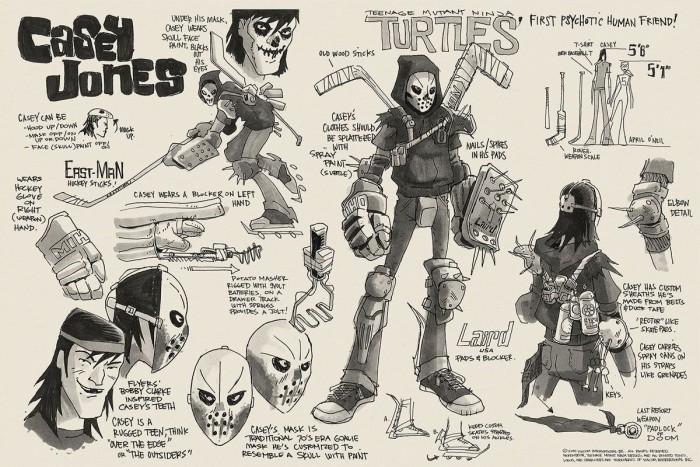 Next up is Nieli's poster for Metalhead, the robotic fifth Ninja Turtle who is built by Donatello in the Nickelodeon series: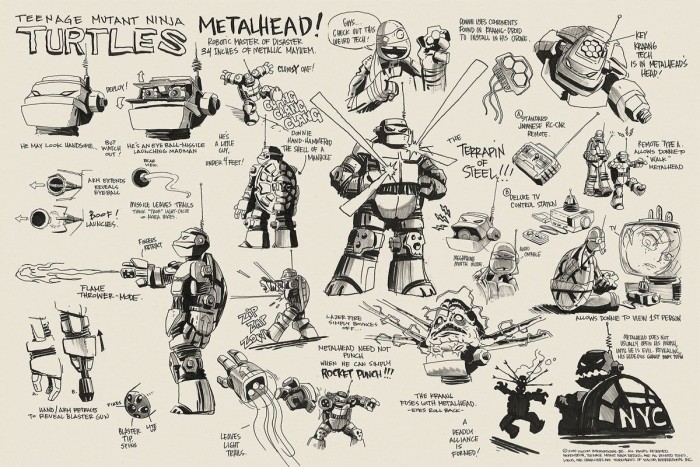 Although some show creators are directly involved in the show, the bulk of the gallery seems to be work of artists who are simply longtime fans of Nickelodeon. As Mondo's creative director Mitch Putnam says:
Nickelodeon was a huge part of my childhood. It represented everything cool and rebellious, and parents didn't know anything about it. We worked with a number of great artists to pay homage to some of the channel's most influential programming. We hope you have as much fun seeing it as we had making it.
Artist Dave Perillo, who created the Rocko's Modern Life art at the link above, also espoused his old school fandom:
Thrilled to be part of the Nickelodeon show with Mondo.  I grew up watching Nickelodeon when my family first got cable in the early '80s, with shows like Pinwheeland You Can't Do That on Television. Always wanted to get slimed for saying 'I don't know?' or food poisoning from Barth's Burgery.
The full line-up of posters won't be revealed until the gallery opens on December 9, 2016, but we do know that art centered around Ren & Stimpy, SpongeBob SquarePants, Teenage Mutant Ninja Turtles, Rocko's Modern Life, Aaahh!!! Real Monsters and Avatar will be on display, with announced artists including Florian Bertmer, Dave Perillo, Francesco Francavilla, Rosemary Valero-O'Connell, Sachin Teng, Ciro Nieli, Sara Kipin and Janice Chu. As is always the case with Mondo shows, whatever doesn't sell out onsite will be available online.