'Transformers: The Last Knight' Trailer: Bayhem Goes Back In Time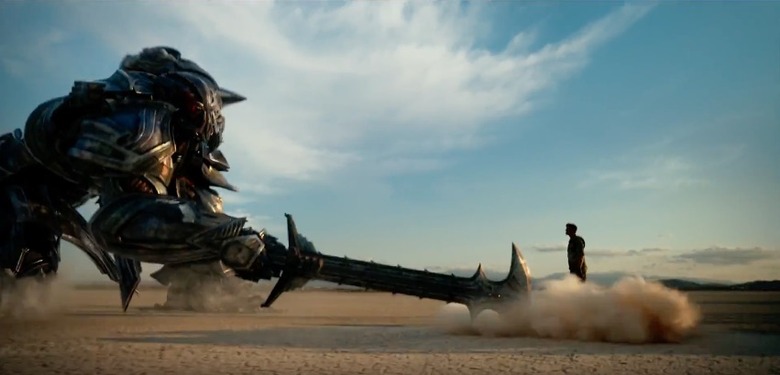 As if the very concept of alien robot cars at war weren't crazy enough, Transformers: The Last Knight is throwing still more nuttiness into the mix. Like baby dinobots, who need Grimlock to teach them to spit fire. And Squeeks, a cute little Vespa Transformer reminiscent of BB-8. The return of Mark Wahlberg as Cade Yeager, genius inventor. The addition of Oscar winner Anthony Hopkins. And, for some reason, King Arthur and his knights. Because, hey, "less is more" has never been the Michael Bay way. Yep, he's back too, despite swearing up and down after Age of Extinction that he would not return to direct another.
So does all of this "more is more" insanity add up to something spectacular? Well, see for yourself. The first Transformers: The Last Knight trailer is here, and you can check it out after the jump.
Transformers: The Last Knight Trailer
Transformers: The Last Knight picks up where Transformers: Age of Extinction left off, with Optimus Prime heading out into space with the Seed in order to confront the Creators. During our recent visit to the set of The Last Knight, executive producer Lorenzo di Bonaventura indicated the new film would explore "the deep mythology of the Transformers and Cybertron, and how they were formed." Among other things, di Bonaventura said, we'll learn "how Transformers were actually created, where did it start, where did they go from being a sort of a slave-race to a sentient race." That Transformers mythology also ties into our own human mythology, which is where King Arthur and his knights come in.
Meanwhile, back on Earth and in the present day, the Transformers are being hunted down by the Transformers Reaction Force, led by Santos (Santiago Cabrera) and Lennox (Josh Duhamel). This makes Cade Yeager a person of interest, so he is on the run. He's sent away his daughter, played by Nicola Peltz in Age of Extinction, for her own safety, which explains why you won't see her in the new film. But he'll be making a couple new friends including Izabella (Isabela Moner) and Vivian (Laura Haddock).
Transformers: The Last Knight is in theaters June 23, 2017. John Turturro, and Stanley Tucci also return from previous installments of the franchise.