'Moana' Clip: Hear Lin-Manuel Miranda Sing ''We Know The Way''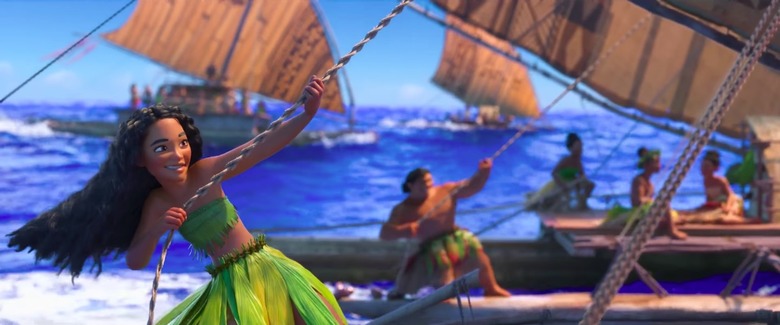 Chances are you've already seen Moana, and if you've already seen Moana, chances are you've got the songs stuck in your head. Maybe you've tried to get your fix by streaming the soundtrack on Spotify or downloading it on iTunes. But it's just not the same without the bright, expressive visuals by Disney Animation, is it?
Happily, the Mouse House is sympathetic to our plight. The studio previously shared a clip showcasing Dwayne Johnson's big musical number "You're Welcome," and today they've unveiled another clip featuring "We Know the Way." (Yes, Hamilton fans, that's the one where you can hear Lin-Manuel Miranda's vocals.) Watch the Moana "We Know the Way" clip below.
Moana We Know the Way Clip
"We Know the Way" might not be as funny as "You're Welcome," as quirky as "Shiny," or as showstopping as "How Far I'll Go," but it's wonderful in its own way. It sets the tone for Moana as a joyous tale of exploration, establishes the overarching theme of knowing one's true self, and celebrates the Polynesian cultures that gave rise to the film's setting and characters. Plus, the scene gives Disney Animation the chance to show off everything they've learned about drawing and animating water. If you're curious about what the opening lyrics (which are not in English) are saying, Bustle took a stab at translating.
Moana marks another high point for Disney Animation, who have been enjoying their strongest run of work since the 1990s Renaissance. And out of the studio's recent hits, Moana has the catchiest soundtrack thanks to the songs by Miranda, Opetaia Foa'i, and Mark Mancina. (Frozen may have had one mega-smash hit in "Let It Go," but Moana has three or four songs on that level.) It's also worth noting that Moana would seem to put Miranda on the fast track to EGOT. He's already got the E, G, and T thanks to his work on Hamilton, In the Heights, and the 67th Tony Awards, so now all he needs is to avoid getting steamrolled by La La Land at the Oscars.Moana is in theaters now. Hey Disney, if you're taking requests, can we get a release of Jemaine Clement's "Shiny" sequence next? Pretty please?