'The Mummy' Featurette: Tom Cruise Gets The Crap Kicked Out Of Him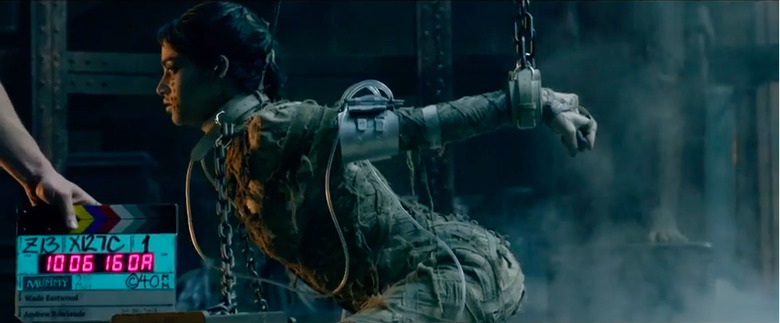 Tom Cruise brings a lot of respectability to The Mummy. More than one would maybe expect from the first entry in the potential Universal Monster Movie Universe, partly because it's following up the disastrous Van Helsing, The Wolfman, and, a movie erased from the new world of monsters, Dracula Untold. Universal has struggled to bring their iconic monsters back to the big screen in the past, but Cruise's involvement in this universe, especially after seeing him in the solid trailer, inspires some confidence — and maybe because you know you're usually in for a fun time with most movies starring Tom Cruise.
Below, watch The Mummy featurette, which features footage not shown in the trailer.
In The Mummy, Alex Kurtzman's second feature as a director, Cruise plays Nick Morton. We don't learn too much about the character from the trailer, except that he maybe helped dig up an ancient princess' (Sofia Boutella) tomb, for which he'll face some horrific consequences. Along for the film's journey from the Middle East to London are actors Annabelle Wallis (Peaky Blinders), Jake Johnson (New Girl), Courtney B. Vance (TV's American Crime Story: The People V. O.J. Simpson), and, playing Dr. Jekyll, Russell Crowe (The Nice Guys). Christopher McQuarrie (Jack Reacher) and Jon Spaihts (Passengers) co-wrote the script, which is promising.
Here's The Mummy featurette, which focuses on the scale of the movie, the horror elements, and more:
What stands out about the trailer and the featurette is how much of a beating Cruise is going to take in this movie. He's taken some serious licks in the past – Edge of Tomorrow being a great recent example — but the moment where he grabs the skinny log, goes toe-to-toe with the princess, and then gets tossed aside like candy is a highlight of the marketing materials we've seen so far. We don't always see movie stars look this vulnerable, but Kurtzman told us he wanted an "unpredictable Tom Cruise":
I think that our goal is to make a movie that's full of suspense, full of adventure, that has moments of horror but that isn't defined as "a horror movie," and that will ultimately scare the shit out of you. This goes back to the requirement, I think, of having an unpredictable Tom Cruise in the movie. Because if you remove from the audience's mind, "Oh I know he's going to save the day," and in fact go, "He really might not, he has no idea what to do here," now I'm in a situation where I'm kind of scared FOR him because I don't know what he's going to do and I don't know what's coming.
One note Kurtzman gave Cruise was to scream for his life during the airplane crash sequence, and that sounds like something filmgoers would want to see one of our most dependable on-screen heroes do. We've seen Cruise play fearful before, but if there's any another movie he should be terrified in, it's this one. Hopefully it is as scary as Kurtzman and all involved describe it as being.
Here's the official synopsis:
Tom Cruise headlines a spectacular, all-new cinematic version of the legend that has fascinated cultures all over the world since the dawn of civilization: The Mummy. Thought safely entombed in a tomb deep beneath the unforgiving desert, an ancient princess (Sofia Boutella of Kingsman: The Secret Service and Star Trek Beyond) whose destiny was unjustly taken from her is awakened in our current day, bringing with her malevolence grown over millennia and terrors that defy human comprehension. From the sweeping sands of the Middle East through hidden labyrinths under modern-day London, The Mummy brings a surprising intensity and balance of wonder and thrills in an imaginative new take that ushers in a new world of gods and monsters.
The Mummy hits theaters on June 9th, 2017.