See Gareth Edwards' Notes On The 'Rogue One' Poster, Plus: Find Out Which Prop He Stole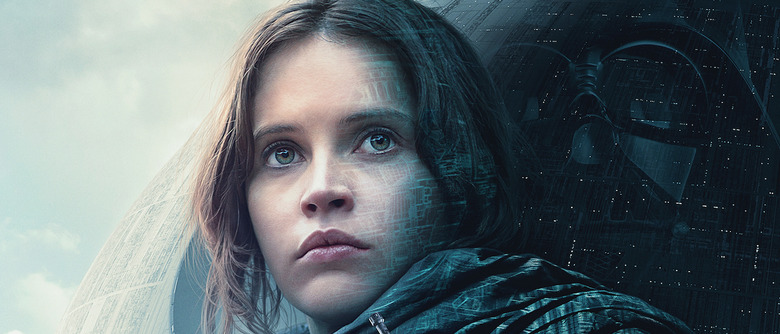 Working on a Star Wars movie would be a dream come true for most filmmakers, so when Gareth Edwards had the chance to helm Rogue One he made the most of it. We've already shared our chat with Edwards, where he told us about all the big ways he tried to make Rogue One his own, but here we're talking about the little things he did to get the full experience. Like leaving his mark on Industrial Light & Magic through a bunch of jokey "notes" on the Rogue One poster, and smuggling out a little memento for himself of his time on set. 
Journalist Scott Chitwood visited the ILM facilities this weekend for the Rogue One press event, and snapped this photo of Edwards' notes on the by-now-familiar Rogue One poster.
Gareth Edwards had some notes for @ILMVFX for Rogue One. pic.twitter.com/Jste0PwuUZ

— Scott Chitwood (@Red5Aggie) December 3, 2016
You'll probably have to enlarge the photo to read some of the comments, but it's clear Edwards is just having some fun with the ILM folks. Among other things, he "demands" that the "visual effects & animation by Industrial Light & Magic" credit be shrunk down, that ILM chief creative officer John Knoll's "story by" credit be removed altogether, and that the "directed by Gareth Edwards" part be done in "much bigger font." But don't worry, ILM's clearly taken Edwards' criticisms in stride. As you can tell by the fact that the poster is framed and hanging on a wall, they're more than happy to share his feedback with the world.
While Edwards left an impression on ILM, he also snagged a little something from the Rogue One as a souvenir. During a recent Facebook Live interview (via io9), Edwards revealed he stole one of the props. Well, maybe.
There was only one thing I wanted out of the whole shoot, and the entire time I kept whispering to people like, Where do you keep that? Where will it be at the end? How do I get ahold of it? Can I have it? And it was like, Oh, no, this is going to be archived, it's part of film history. So I obviously didn't do this, because then they'd want it back.
Okay, so now that Edwards has very capably covered his tracks by claiming he "obviously didn't do" anything, what did he not-take?
I stole the Death Star plans.
Yep, the director of a movie about stealing the Death Star plans went ahead and stole those Death Star plans for himself. The irony was not lost on his cast. "You know we'll get them back," joked star Ben Mendelsohn. Riz Ahmed chimed in, "Yeah, we're good at that." Apparently the Rebellion and the Empire can still find common ground in the desire to steal Death Star plans from directors who have no business lifting props from their sets.
You can watch Edwards talk about definitely not stealing the Death Star plans around the 17-minute mark, below.
Rogue One: A Star Wars Story is in theaters December 16.