Video: Take A Look Inside The Rogue One Creature Shop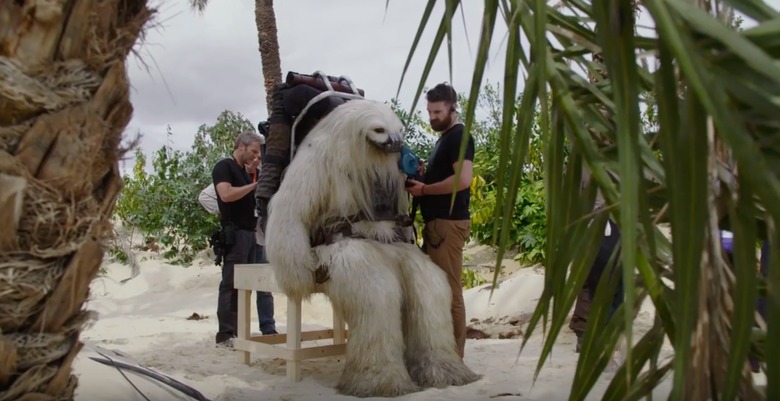 We are ten days away from Rogue One: A Star Wars Story hitting theaters and it already feels like the marketing for this film is reaching a fever pitch. Disney has released another featurette, this one focusing on the aliens and creatures featured in the first Star Wars anthology film. While the marketing for Star Wars: The Force Awakens was so laser-focused on convincing fans that this was a return to practical effects, locations, and creatures, we haven't seen much of this angle for Rogue One. But this new featurette takes us into the Rogue One creature shop to take a look at the artistry behind the aliens and creatures in this film. Hit the jump to watch it now.
Rogue One Creature Featurette
In the Rogue One creature featurette, director Gareth Edwards and Creature Effects Supervisor Neal Scanlan offer a behind-the-scenes peek at the creatures of Rogue One: A Star Wars Story. These kind of featurettes are always my favorites, and I only wish that Disney would release longer versions of these behind-the-scenes looks. I love the creativity that goes into these creature designs, and cleverness of the execution — from animatronic masks to walking rigs. And of course, the featurette showcases the team's space monkey Bistan, as well as new creatures we haven't seen featured in most of the marketing materials.
The official synopsis for the movie follows:
In a time of conflict, a group of unlikely heroes band together on a mission to steal the plans to the Death Star, the Empire's ultimate weapon of destruction. This key event in the Star Wars timeline brings together ordinary people who choose to do extraordinary things, and in doing so, become part of something greater than themselves.
Disney will release Rogue One: A Star Wars Story in theaters on December 16th, 2016.