New 'Rogue One: A Star Wars Story' Clips, A Possible Episode VIII Connection & More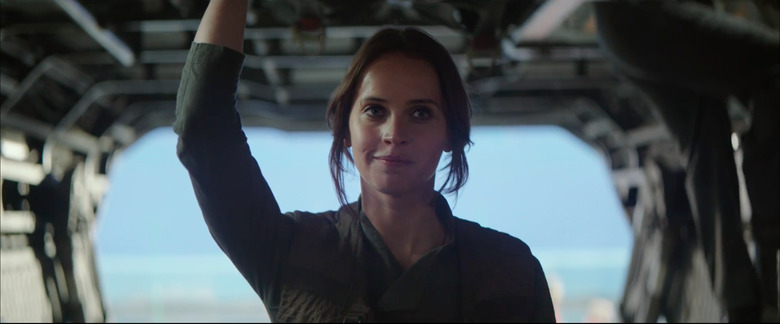 The clips are starting to pour in for Gareth Edwards' Rogue One: A Star Wars Story. After plenty of welcomed secrecy, just two short weeks before the movie finally comes out, we're seeing more and more footage. Yesterday brought us a clip in which Stormtroopers have yet to master the art of simply aiming, while today brings us a new clip showing Jyn Erso (Felicity Jones) and Cassian Andor (Diego Luna) trying to get on the same page and another with a character you'll remember from the prequels.
Below, watch the Rogue One clips.
Rogue One: A Star Wars Story occurs before the events of the original Star Wars and follows a crew led by Jyn Erso that attempts to steal the Empire's Death Star plans. Joining the rebel in her fight are Captain Cassian Andor, droid K-2SO (Alan Tudyk), Chirrut Îmwe (Donnie Yen), Baze Malbus (Jiang Wen), Saw Gerrera (Forest Whitaker), and Bodhi Rook (Riz Ahmed). They'll go up against the posh Orson Krennic (Ben Mendelsohn), Darth Vader, and the rest of the Empire.
The clip, titled "Jyn's Blaster," gives an idea of K-2SO's wit and how Andor and Erso's relationship begins:
Alan Tudyk bringing some good laughs to the Star Wars universe? No surprise there. He played K-2SO via motion-capture, which Tudyk, who we recently heard voice a chicken in Moana, has previous experience with, thanks to I, Robot. Here's another clip that surfaced today as well, featuring Jimmy Smits as Bail Organa:
In other Rogue One-related news, a graphic from Entertainment Weekly suggests Edwards' film shares a connection with Rian Johnson's Star Wars: Episode VIII. The outlet unveiled a graphic that reminds us the film takes place before A New Hope, but a red line connects Edwards' film with Episode VIII. Whether there's any real substantial connection, we'll know soon enough.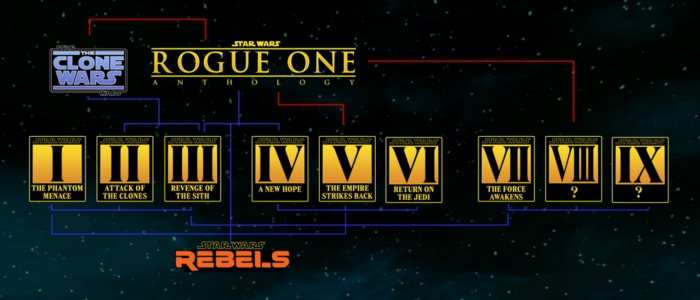 Still hungry for more information on Rogue One: A Star Wars Story? Then this 30 minute Facebook Q & A with Edwards and the cast should do the trick:
Right now, Rogue One: A Star Wars Story is estimated to make $130 million its opening weekend, which would make for an excellent start for Lucasfilm and Disney's standalone Star Wars films. If for some reason you still want to see more from Rogue One, check out some new pics, an extended TV spot, and a featurette. You can also find out where you can see the film in 70mm IMAX right here.
Here's the official synopsis:
From Lucasfilm comes the first of the Star Wars standalone films, "Rogue One: A Star Wars Story," an all-new epic adventure. In a time of conflict, a group of unlikely heroes band together on a mission to steal the plans to the Death Star, the Empire's ultimate weapon of destruction. This key event in the Star Wars timeline brings together ordinary people who choose to do extraordinary things, and in doing so, become part of something greater than themselves.
Rogue One: A Star Wars Story" is directed by Gareth Edwards and stars Felicity Jones, Diego Luna, Ben Mendelsohn, Donnie Yen, Mads Mikkelsen, Alan Tudyk, Riz Ahmed, with Jiang Wen and Forest Whitaker. Kathleen Kennedy, Allison Shearmur and Simon Emanuel are producing, with John Knoll and Jason McGatlin serving as executive producers.
Rogue One: A Star Wars Story opens in theaters on December 16th.