Exclusive: 'The Eyes Of My Mother' Featurette Digs Into One Of The Most Unsettling Films Of 2016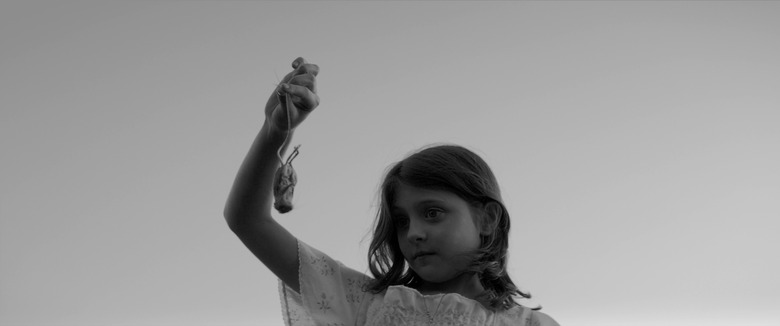 Before you start doling out superlatives for the year in movies, you'll want to check out what I'm pretty sure is still one of the most unsettling cinematic experiences of 2016. The Eyes of My Mother creeped the hell out of audiences at Sundance at the start of the year, and has spent the past several months traumatizing the rest of festival circuit with its odd blend of startling beauty and quiet but visceral brutality. Now, at long last, it's available for everyone to see. But if you're still not quite convinced, allow an exclusive The Eyes of My Mother featurette to make its pitch. Click through to watch.
The Eyes of My Mother Featurette
This is definitely not a film for everyone. If I'm being honest, it wasn't a film for me. It's a nasty piece of work that invites you into the mind of a monster, bringing you along through her formative experiences and everyday routines. Turns out that's not a very pleasant place to be, which might be why The Eyes of My Mother feels far longer than its 76-minute runtime. It's punishing in its brutality, and sickening to behold. If you haven't got the stomach for it, I don't blame you — I nearly walked out of a screening myself.
And yet, I'd encourage anyone who has a taste for unusual horror movies to at least give it a shot. The mere fact that it's still so vivid in my memory, nearly a year after I saw it, speaks highly of its ability to make an impression. Jacob Hall, who enjoyed it much more than I did, put it this way:
The Eyes of My Mother isn't a crowdpleaser. It's not fun in the traditional sense of the word. It may leave those without a thick skin for cinematic cruelty a little overwhelmed and sickened. But this is an audacious, undeniably impressive film that achieves exactly what it sets out to accomplish. This will not be an easy experience to shake.
Also worth pointing out is that this film marks Nicolas Pesce's directorial debut — and as those go, it's a stunning one. I think and hope we'll be seeing much more from him in the years to come.
The Eyes of My Mother is now in theaters, and you should watch it that way if you can. Aside from the fact that it looks freaking gorgeous on the big screen, this is a film that relies heavily on mood and atmosphere and would benefit from the dark, quiet isolation of an actual cinema. But if you can't, it is also currently available on iTunes, Amazon, and VOD.
In their secluded farmhouse, a mother, formerly a surgeon in Portugal, teaches her daughter, Francisca, to understand anatomy and be unfazed by death. One afternoon, a mysterious visitor horrifyingly shatters the idyll of Francisca's family life, deeply traumatizing the young girl, but also awakening some unique curiosities. Though she clings to her increasingly reticent father, Francisca's loneliness and scarred nature converge years later when her longing to connect with the world around her takes on a distinctly dark form.