'A Monster Calls' Featurette: What's The Story Behind The Story?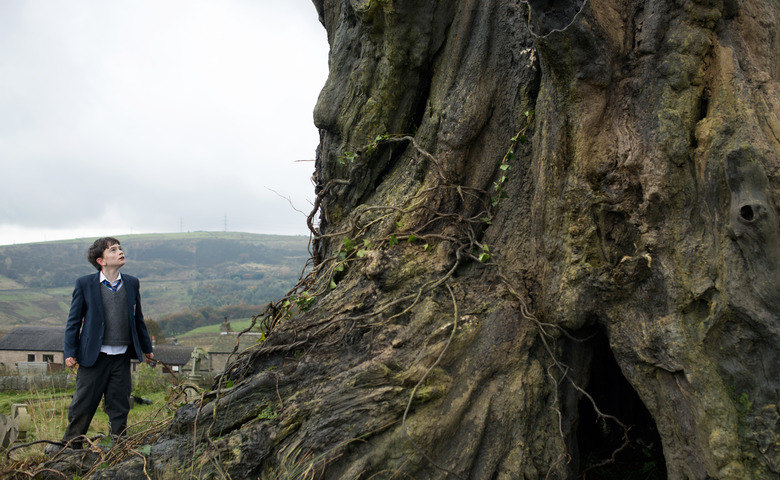 A Monster Calls is a heartbreaking movie. When J.A. Bayona's (The Impossible) latest film premiered at the Toronto Film Festival, in a nice bit of promotion, tissue boxes were handed out to those in attendance. That was a good call because the film certainly made our own Angie Han choke up once or twice. She praised the drama as a "five-hankie sobfest, a ruthlessly effective tearjerker even by cancer drama standards," despite a few scenes she found too manipulative.
Below, watch A Monster Calls featurette, which shows how the story came about and evolved.
Based on the novel by the film's screenwriter, Patrick Ness, A Monster Calls tells the story of a 12-year-old boy, Conor (Lewis MacDougall), dealing with the weight of the world on his shoulders. He's bullied and ridiculed at school as he struggles with the pain and confusion of watching his mother (Felicity Jones) fight terminal cancer at home. To escape reality, Conor dreams of a monster — a massive tree (voiced by Liam Neeson) who comes to help the boy through the power of storytelling. The tree  will tell Conor a handful of fables, but in exchange, he'll have to reveal his darkest secret. A Monster Calls co-stars Sigourney Weaver and Toby Kebbell
Before you watch the featurette, I'll just say A Monster Calls is a movie best to experience with fresh eyes. Some of the marketing materials, especially the three-minute trailer, have maybe shown a little too much from the film. But if for some reason you're not sold on seeing the next movie from the director of The Orphanage, The Impossible, and the next Jurassic Park movie, or you simply want to see more from the film or learn its origin, then here's A Monster Calls featurette:
How Bayona visualizes Conor's emotional state is often stunning, whether through the animated sequences or even one terrific, showstopping use of silence (you'll know the scene when you see it). A Monster Calls is an exceptionally emotional piece of spectacle with a big, beating, tangible heart. Expect plenty of beauty and heartache from Bayona's latest.
Here's the official synopsis:
A visually spectacular drama from acclaimed director Juan Antonio Bayona ("The Impossible"), based on the award-winning children's fantasy novel. 12-year-old Conor (Lewis MacDougall) attempts to deal with his mother's (Felicity Jones) illness and the bullying of his classmates by escaping into a fantastical world of monsters and fairy tales that explore courage, loss, and faith.
A Monster Calls opens in theaters on December 23rd.