'Office Christmas Party' Trailer: Renting A Baby Is Cheaper Than You Think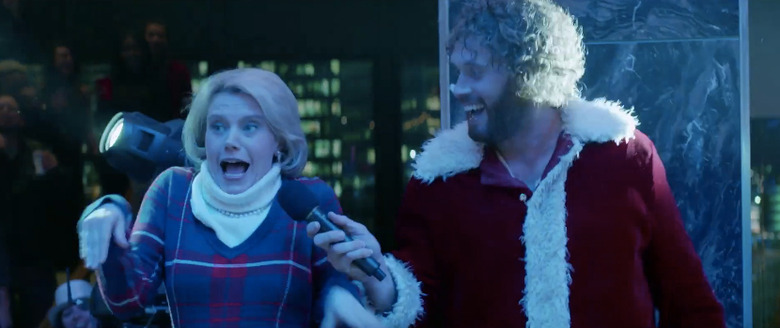 While many are looking ahead a couple weeks to the release of Rogue One: A Star Wars Story in just two weeks, some may be looking forward to getting absolutey crazy with a raunchy, R-rated holiday comedy, and Office Christmas Party will try to come through next week.
A new trailer for the comedy from Blades of Glory directors Josh Gordon and Will Speck has just arrived, and while it shows more of the party shenanigans that happen in an office in downtown Chicago, it also shows more of the outside happenings, including Jennifer Aniston assaulting some guy, and Karan Soni (the cab driver from Deadpool) trying to get a hooker from Jillian Bell (22 Jump Street).
Watch the new Office Christmas Party trailer after the jump.
Judging by all the trailers we've seen so far, Kate McKinnon feels like she'll be the standout, but if you're not a fan of her in general, you probably won't enjoy her antics this time either. However, I'm also looking forward to seeing T.J. Miller and Courtney B. Vance really cut loose together at this shindig.
While all the comedic talent on display here has me wholly excited to see how this movie turns out, I must say that I'm worried this one is going to get a little too out of control, bordering on the insanity of Horrible Bosses 2 that crosses the line into goofy rather than just dancing around it. All of the stuff outside of the party is what seems to be the most outlandish stuff for now, but maybe when we see it executed in context it will work. At the very least, it might give you some ideas for your own office Christmas party if you're looking to get fired.
The rest of the ensemble cast includes Olivia Munn, Vanessa Bayer, Randall Park, Sam Richardson, Jamie Chung and more. If you haven't seen it already, you can still watch the most recent trailer for Office Christmas Party right here. Plus, there's an assortment of clips available to watch over here.
When the CEO (Jennifer Aniston) tries to close her hard-partying brother's branch, he (T.J. Miller) and his Chief Technical Officer (Jason Bateman) must rally their co-workers and host an epic office Christmas party in an effort to impress a potential client and close a sale that will save their jobs.
Office Christmas Party hits theaters next week on December 9.