New 'Death Stranding' Trailer Features Mads Mikkelsen And Guillermo Del Toro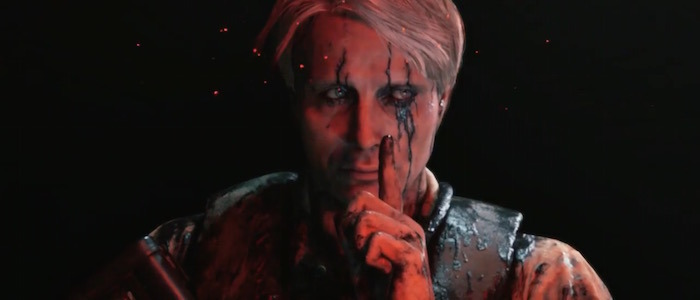 Few game video game designers have managed to blur the line between interactive gaming and cinema quite as effectively as Hideo Kojima, so is it any surprise that the trailer for his latest project, the oddly titled Death Stranding, features characters played by Mads Mikkelsen and director Guillermo del Toro in motion capture performances? We still don't know how this game plays or what it's about or when it's expected to hit shelves, but these actors (and the sensibilities on display in this footage) suggest that Kojima is trying to draw as many cinephiles into his web as he is gamers.
The trailer was revealed at the 2016 Game Awards, where Kojima also received the Industry Icon Award. Like the previous teaser shown earlier this year, this footage is less about showing off the game itself and more about revealing its world and an unsettling, disconcerting, nightmarish tone. In a vacuum, this footage is effectively nonsense, albeit gripping, visually stunning nonsense created by people with one hell of a strong track record for aiming big and hitting their target. Now that he's officially divorced fro the Metal Gear Solid series, Kojima appears to be embracing his weirdo ambitions like never before. I'm fully prepared for some top-notch WTF-ery.
In addition to del Toro and Mikkelsen (who was already having one hell of a year between Doctor Strange and Rogue One: A Star Wars Story), the game will feature The Walking Dead's Norman Reedus as the main character. This reveal came in the original E3 trailer...which also offers no clue as to what Death Stranding is actually about.
The origin story of Death Stranding, and the reason why this eclectic group of talented folks has come together, begins with disappointment. A few years ago, Kojima and del Toro were collaborating on Silent Hills, the latest entry in Konami's Silent Hill video game series, which would have featured Reedus as the lead character. To tease the game, they created a short game called P.T. (short for "playable teaser") that existed to tease the mood and tone of the future game. The result was one of the scariest things I've ever experienced in any medium. And then Konami cancelled the game, leaving everyone to wonder what could have been. Kojima left the company, went independent, and announced Death Stranding.
del Toro, who is involved in Death Stranding creatively as well as playing a character, let his feelings on this matter be known on Twitter last night.
FUCK KONAMI https://t.co/YRl5uXQlO6

— Guillermo del Toro (@RealGDT) December 2, 2016
Konami cancelling SH after PT is one of the most moronic things I've ever witnessed.

— Guillermo del Toro (@RealGDT) December 2, 2016
Of course, del Toro and Kojima making a game starring Mikkelsen and Reedus that doesn't have to exist within a pre-existing franchise is exciting stuff. Hopefully, whatever they're cooking up lives up to these weird trailers.