'Assassin's Creed' Clip: Michael Fassbender Has A Carriage To Catch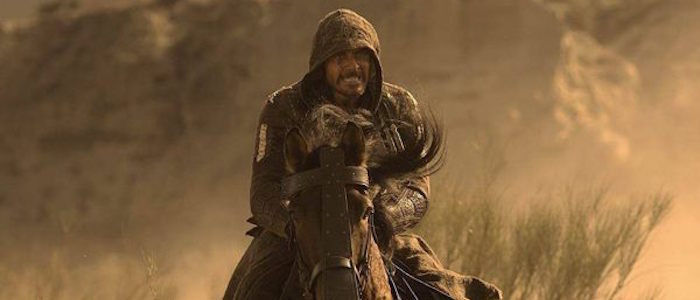 The 2016 edition of The Game Awards were held last night (Blizzard's Overwatch was the big winner, for the record) and 20th Century Fox used this celebration of the best in video games to advertise Assassin's Creed, their upcoming video game movie adaptation starring Michael Fassbender. This extended clip from the film was preaching to the choir last night, but it's now arrived online, ready to win the hearts and minds of non-gamers looking for a big movie that will allow them to escape their family for two hours this holiday season.
The clip takes place in 15th century Spain and follows Aguilar (Fassbender), a member of a secret order known as the Assassins, as he chases down a carriage that has abducted a young child for reasons unknown. There will be horseback riding! And dramatic leaping! And stabbing! And maybe even an overturned carriage or two! Of course, all of this is simulation of sorts, a flashback experienced by Aguilar's modern day descendant, Callum Lynch (also Fassbender) via a machine called the Animus, which allows users to re-live their "genetic memories."
We got a good look at the Animus itself in a previous clip and recent featurette tried to explain this ludicrous technology, but it's the period-piece action that has always been the draw in the Assassin's Creed games and it's what should be the draw for a big screen adaptation. That's what makes the reports that the bulk of the film will take place in modern day so weird and disheartening – the modern day stuff is what gamers literally rush through as fast as possible so they can get back to stabbing people in the face while wandering immaculate recreations of centuries-old cities.
While this clip feels like it has been chopped to bits so it can fit into a slot on a live television program, this footage certain looks like the work of Justin Kurzel, whose Macbeth never met a cloud of dust or ash it didn't want rain down upon its actors. History will tell us whether or not he's a filmmaker to treasure, but he's certainly talented and he's certainly our dustiest director.
Assassin's Creed opens on December 21, 2016.
Through a revolutionary technology that unlocks his genetic memories, Callum Lynch (Michael Fassbender) experiences the adventures of his ancestor, Aguilar, in 15th Century Spain. Callum discovers he is descended from a mysterious secret society, the Assassins, and amasses incredible knowledge and skills to take on the oppressive and powerful Templar organization in the present day.