George Lucas Visited The 'Rogue One' Set, Offered Gareth Edwards Some ''Advice''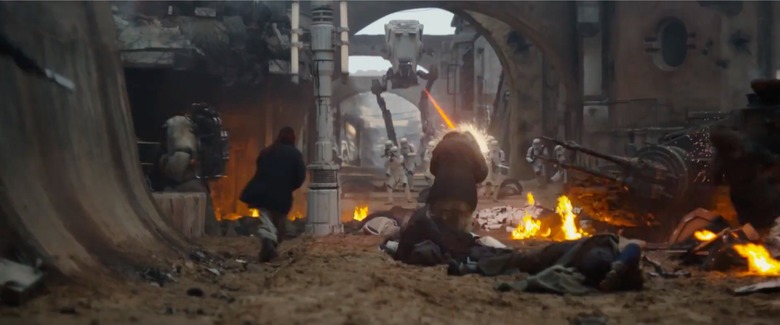 George Lucas is something of an enigma –he's one of our most fascinating and important living filmmakers while also being a lightning rod for criticism from the people who grew up appreciating his work. It may take a few more decades for pop culture to come to grips with the man who found his feet in the American New Wave, created Star Wars as a passion project, gave birth to the modern blockbuster, and then confounded fandom with his prequel trilogy years later. Like him or not, Lucas has spent over 40 years making the films he wanted to make, for better and worse.
Lucas has all but retired after selling Lucasfilm to Disney for a couple billion dollars, but when the creator of Star Wars decides to pop by to check out the set of your new Star Wars spin-off movie, you should extend him every courtesy. At the very least, you'll get some fun stories to share.
While doing French press rounds for Rogue One: A Star Wars Story (via Star Wars News Net and ComicBook.com), director Gareth Edwards spoke about what happened when the creator of the most popular science fiction universe in modern history decided to visit the set and offer some very useful advice:
He said, don't screw it up.
Ah, words of wisdom! Edwards also showcased empathy for Lucas, acknowledging how truly weird it must be for him to watch someone else make a Star Wars movie without his input at all:
I think there are two things that are incredibly surreal that you can do in your life. Number two is having to show George Lucas your Star Wars movie. Like, that was really crazy. And I think number one is to be George Lucas and have someone show you a Star Wars movie. So I felt for him, and he was incredibly gracious.
Lucas also showcased some self-deprecating humor, offering Edwards some free advice:
He joked a lot about how we should do more in the computer, and not build so much. We didn't take his advice. We tried to shoot as much in-camera as possible.
Of course, Lucas was roundly criticized for shooting much of the prequel trilogy against green screens (and fans have celebrated the number of practical effects being utilized in the new Star Wars movies). I'm torn between loving Lucas for being one of cinema's most influential voices, being annoyed with him for those damn prequels, and admiring the self-awareness required to poke fun at the criticisms others have leveled against you.
Rogue One: A Star Wars Story opens on December 16, 2016.