'21 Jump Street' Spinoff Gets '22 Jump Street' Scribe To Write & Probably Direct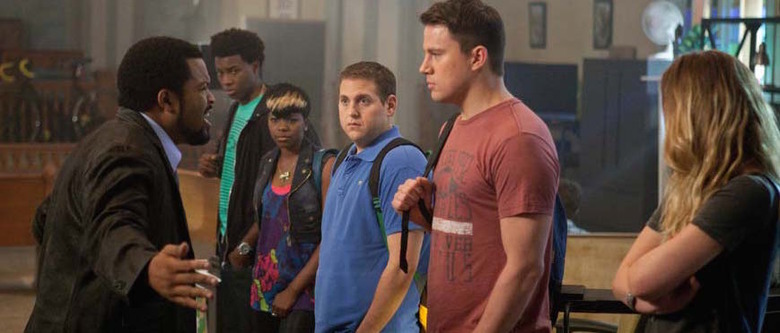 While Schmidt and Jenko are off battling aliens in MiB 23, some of their old Jump Street colleagues will be stepping up into a spotlight of their own. Last year, we got word Sony was planning a Jump Street spinoff that'd center on a couple of female officers. Broad City scribes Lucia Aniello and Paul W. Downs were brought on to try and crack the script, and then Bob's Burgers producers Lizzie and Wendy Molyneux. Now 22 Jump Street's Rodney Rothman is also hopping on board, and it looks like he could end up directing as well.
Deadline reports Rothman will script "with an eye toward directing," so it sounds like the second half of that equation isn't set in stone just yet. Details are being kept under wraps, but the trade notes the movie does have male characters in it, which... kind of seems like a given? There are hardly any movies with no male characters, after all. It's unclear whether that means men will be among the leads (which would suggest the filmmakers have moved away from the initial concept of a female-led spinoff), or whether it simply means there will be male supporting characters.
While the Jump Street film franchise is only two movies in, so far it's been a very solid investment for Sony. The first film cost $42 million to make and grossed $201 million. The second one did even better, making $331 million on a budget of $50 million. Both were also well liked by critics. The first film did a lot to cement Channing Tatum's status as a bonafide movie star, and burnish the reputations of directors Phil Lord and Chris Miller as the guys you turn to when you need to spin gold out of a terrible-on-paper idea. Not bad for a goofball take on a half-forgotten cop drama from the 1980s.
After the second film, however, it was tough to tell where the franchise could go next. 22 Jump Street had tons of jokes at its own expense, parodying the very idea of making a sequel to a reboot no one asked for in the first place, and ended with a hilarious montage of increasingly bizarre sequel ideas. A straightforward sequel seemed like it would be a disappointing next step. So Sony decided to mash up Schmidt and Jenko with the Men in Black franchise, while two writing teams were hired to write parallel drafts for the Jump Street spinoff. We don't know if any of their previous work is being retained, or if Rothman will start from scratch.
Rothman is already very familiar with the franchise, having been one of the screenwriters on 21 Jump Street. In addition, he recently turned in a draft for MiB 23. As a writer, his other credits include Grudge Match and that upcoming Greatest American Hero TV series. As a producer, he's known for comedies like Forgetting Sarah Marshall, Get Him to the Greek, and Popstar: Never Stop Never Stopping. If he does take the helm for the Jump Street spinoff, it'll be his feature directing debut.