'Surf's Up 2: WaveMania' Trailer: WWE Superstars Ride Waves Straight To DVD And VOD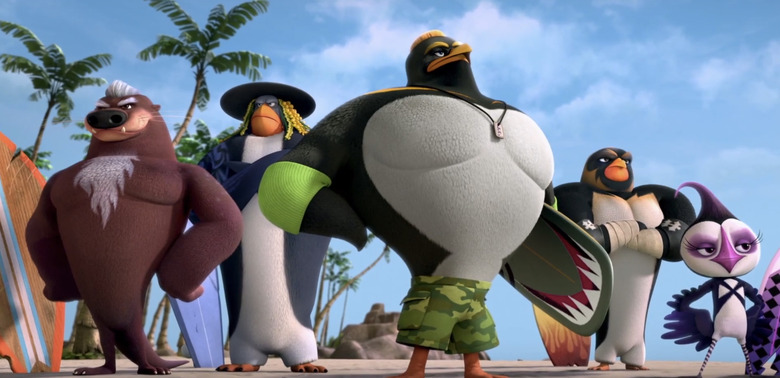 At the end of the summer, we got a glimpse of Surf's Up 2: WaveMania, a sequel to the 2007 animated comedy that followed a young penguin named Cody Maverick (Shia LaBeouf) as he took part a big surfing competition. This time, Cody Maverick is hitting the waves again, voiced by someone completely new, as he joins a whole new crew of surfers who just so happened to be voiced by WWE superstar wrestlers John Cena, Undertaker, Triple H, Paige and Vince McMahon.
Now a new Surf's Up 2 trailer has arrived, showing us exactly why this is a straight-to-DVD and VOD title instead of getting a theatrical release.
While I enjoyed John Cena in Trainwreck, this seems like a supreme waste of his surprisingly great comedic talents. In addition, his voice sounds a little too close to what Diedrich Bader did with his character in the first Surf's Up. Sure, that's just his normal voice, but it's just a little repetitive. As for the rest of the WWE superstars, their vocal performances sound exactly as underwhelming as you'd expect, and they just don't measure up to the chill surfing master played by Jeff Bridges in the original movie.
It's a shame that a Surf's Up sequel didn't do something more worthy to follow the first film, which is a sorely underrated and too easily forgotten flick from nearly a decade ago. But maybe Sony Pictures Animation couldn't assemble all of the voice cast again to make it worth their while for a theatrical feature, and then this strange idea came along to capitalize on wrestling fans who will watch anything featuring their favorite athletes.
Cody Maverick, hungry for a new challenge, convinces an infamous big wave riding crew known as The Hang 5, voiced by WWE Superstars John Cena, Undertaker, Triple H, Paige and Mr. McMahon to let him join them on their journey to a mysterious surf spot known as The Trenches, where legend has it, they'll find the biggest waves in the world. Cody soon discovers that the life he left behind might be more heroic than what any death-defying wave has to offer.
Directed by Henry Yu, Surf's Up 2: WaveMania is based on a screenplay by Abdul Williams. The film is a co-financed production between Sony Pictures Animation and WWEStudios, and is produced by Michelle L.M. Wong and executive produced by Michael Luisi.
Surf's Up 2: WaveMania hits DVD and VOD on January 17.