Jackie Chan Joins Joe Carnahan's Drug Cartel Action Movie 'Five Against A Bullet'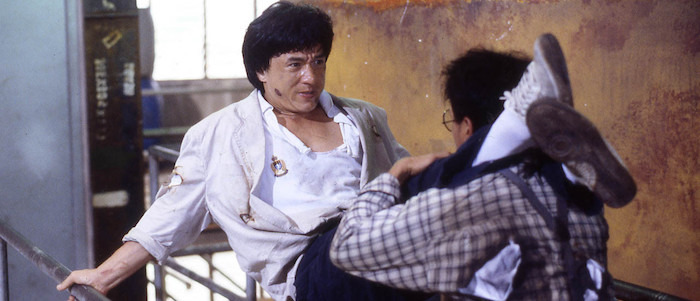 Five Against a Bullet is a title you may recognize from over the years. The Lorenzo di Bonaventura-produced action film has been in development since 2011 when around Bruce Willis was attached to star. After that iteration of the project failed to come together, director Joe Carnahan (The Grey) became attached to direct and rewrite Alex Litvak's (Predators) script back in 2014. The project has gained new signs of life as actor and martial arts legend, Jackie Chan, has (possibly) signed on to star in the film, which Carnahan likens to The Wild Bunch.
Below, learn more about the Jackie Chan Five Against a Bullet casting news.
Tracking Board, a source that's not always reliable, writes that Chan, known for Police Story, Drunken Master, Rush Hour, and far more, is going to star in Carnahan's film. Here's the synopsis: After a drug cartel murders a Mexican politician's father, he hires five cynical bodyguards from around the world to protect him during a violent election. The Tracking Board figures Chan is playing one of the bodyguards.
Another heavy-hitting action star who once circled Five Against a Bullet was Sylvester Stallone, but it looks like this project may finally move forward with Chan in the starring role. Considering Carnahan has the Bad Boys sequels coming up, though, the action pic may have to wait.
Bonaventura has been wanting to make Five Against a Bullet for years. Here's how the former studio head and Transformers producer once described the project when it was at Sony:
Joe [Carnahan] we just put on a project called Five Against a Bullet, which I've loved for a long time. It is a tale of a group of men who have become cynical, sort of lost their sense of hope about life and the world, who are rekindled and betrayed and rekindled and betrayed in this story, and it's got some of the coolest action and some of the greatest characters, and it's a really fantastic action movie that I think will really grab people. And Joe's working on it right now. ... We have a great script and no doubt he'll put a little pen to paper as well, but we're already in great shape and Sony loves the project and no doubt we'll start trying to figure out how to cast that.
In 2014, Carnahan presumed Five Against a Bullet would be his next movie. At the time, when it came to the actors he wanted in the film, he cast a wide net. The Narc and Stretch director told Collider he could have the star of this ensemble be a grizzled, aging lead or a young cynic, but it looks like he might be going with the former, at least with Chan's potential role.