Rumor: 'Sense8' Christmas Special Coming Next Month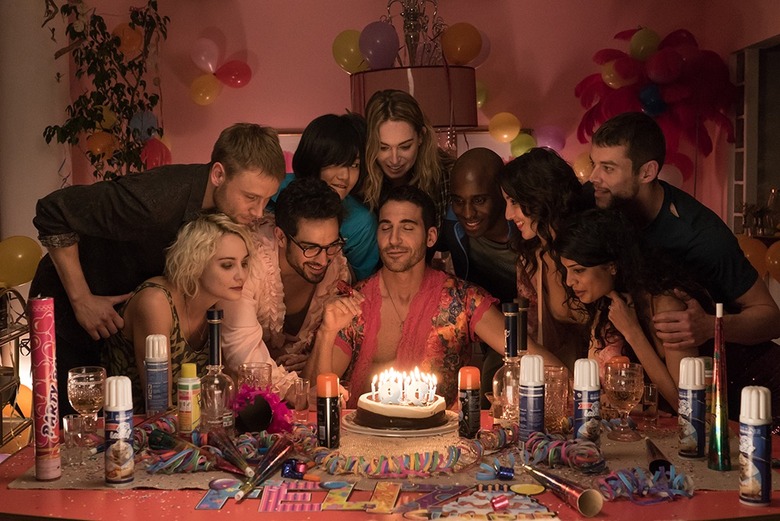 If Lana and Lilly Wachowski's particular brand of gonzo sci-fi metaphysicality is up your alley (and I say that with no judgment; it is very much up mine), Netflix may have a gift waiting under the tree for you next month. It looks like a Sense8 Christmas special will be dropping just a few days before the holiday, possibly ahead of a full Sense8 season 2 release in 2017. 
Spoiler TV (via ScreenCrush) noticed that the show's Netflix page indicates a "Christmas special coming December 23." Earlier this year, actress Jamie Clayton tweeted that a new episode of Sense8 would be coming around Christmas of this year, while actress Daryl Hannah shared a photo of what looked like a script for a Christmas special. It should be noted that as of now, Netflix hasn't officially announced anything about a Sense8 Christmas special. But all signs point to one happening, and if that's the case it probably won't be too long before Netflix issues a press release or unveils a new teaser.
The first season premiered on June 5, 2015, and a second season renewal was announced just a couple of months later. Shooting began sometime this year with all of the core cast returning, minus Aml Ameen who was replaced by Toby Onwumere in the role of Capheus for season two. Since then, though, there's been no word about when the new episodes will actually air. The Christmas special rumor represents our first major update on that front.
The Wachowskis' sci-fi drama centers on eight strangers from around the world who suddenly discover that they are mentally and emotionally linked. Not only can the sensates communicate psychically within their cluster, they can slip into each other's experiences and share each other's knowledge and skills. The first season followed the group as they explored their newfound ability while trying to escape the clutches of a mysterious sensate from another cluster, who's turned against his own kind and is determined to stop them.
In some ways Sense8 feels like eight completely different shows, but when the various storylines start to intersect, interesting and thrilling and just plain bonkers things can happen. Like an action scene that takes advantage of the way the sensates can dip in and out of each other's minds, or a graphic birth montage that shows how all the sensates were born, or a psychic orgy involving most of the cluster. Running through it all is a bunch of earnest we're-all-connected philosophizing that Wachowski fans will recognize as a throughline of their work, from The Matrix trilogy through Cloud Atlas and Jupiter Ascending.
So yeah, it's a pretty weird show, and definitely not for everyone. But like I said, if the Wachowskis do it for you, Sense8 is definitely one worth checking out. And now that you know we'll likely have a Christmas special to look forward to, you can make sure to get caught up in time to open your gift.