Lin-Manuel Miranda Takes On Patrick Rothfuss' Fantasy Epic 'The Kingkiller Chronicle'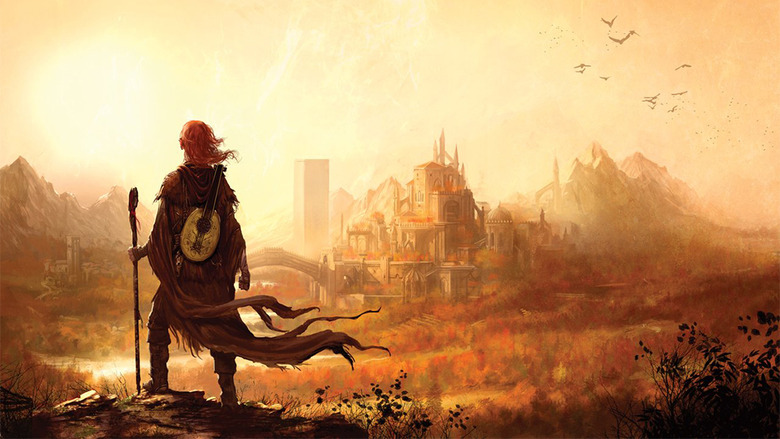 Lin-Manuel Miranda sure does write like he's running out of time. The Hamilton superstar has added yet another project to his to-do list, and in a break with his recent streak, it's got nothing to do with Disney. Miranda will produce and write music for The Kingkiller Chronicle, Lionsgate's adaptation of Patrick Rothfuss' fantasy trilogy. In addition, he could be involved in a stage adaptation somewhere down the line. 
Lionsgate struck a multiplatform deal last year which will see Rothfuss' books simultaneously developed for film, television, and video games. Robert Lawrence (Clueless) is producing. Today TheWrap reports that Miranda will serve as the "creative producer" and "musical mastermind" behind The Kingkiller Chronicle, composing original music and writing songs. It doesn't sound like there are any set plans for a stage adaptation just yet, but if those should ever come to fruition Miranda has the option to come on board there as well.
Earlier this year the movie part of Lionsgate's ambitious Kingkiller Chronicle plan moved forward, as Lindsey Beer (of the Transformers writers room) signed on to write a script based on the first book, The Name of the Wind. Meanwhile, the TV series will explore the world outside the books. Miranda will team up with Rothfuss to develop new characters and storylines for the show.
The Kingkiller Chronicle tells the story of Kvothe, who's orphaned at a young age and forced to fend for himself. But through his talent and determination, he grows up to be a hero and a scholar as well as a renowed musician and magician. I haven't read the books myself, but from here... I mean, it doesn't not sound like Hamilton. No wonder Miranda's such a huge fan, as he declares himself in the press release:
Pat Rothfuss' 'Kingkiller' books are among the most read and re-read in our home. It's a world you want to spend lifetimes in, as his many fans will attest. Pat also writes about the act of MAKING music more beautifully than any novelist I've ever read. I can't wait to play a part in bringing this world to life onscreen.
In addition to creating Hamilton, Miranda starred as the title character on Broadway until he departed this past summer. You may have also heard his music in Star Wars: The Force Awakens last year — he wrote the cantina song — and Disney Animation's Moana. He is about to begin shooting Disney's Mary Poppins Returns with Emily Blunt, and recently signed on to help out with the studio's remake of The Little Mermaid.