'Office Christmas Party' Clips: Headlocks, Holiday Mixers & 'Gone Girl' Threats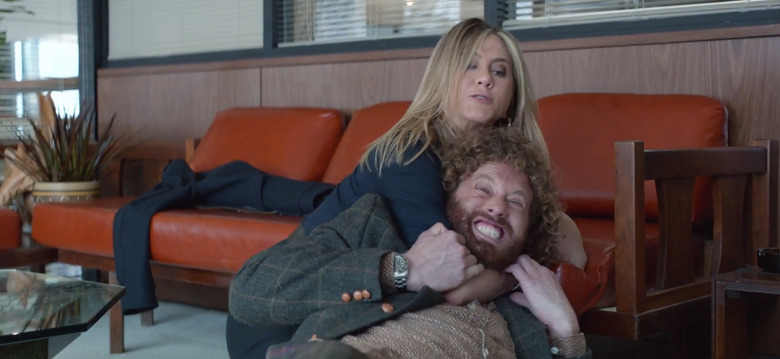 With December just around the corner, it's time for your office to start planning their annual office party, but I can almost guarantee that yours won't be quite as epic as the festivities that will unfold in Office Christmas Party.
The new R-rated holiday comedy is coming to theaters next week, and to help spread the cheer; three new clips have just debuted online. There's no new peeks at the impending holiday party, but these are clips from earlier in the film leading up to the massive shindig that will go awry in Chicago. The first two are tame enough, but the last one has some potentially NSFW language if you're not listening with headphones.
Watch the Office Christmas Party clips after the jump.
Jennifer Aniston, who has found solid footing in R-rated comedy, is playing the stern boss who has come to shut down an office branch managed by her brother (T.J. Miller), and they clearly have a little bit of sibling rivalry that invades their professional relationship (or lack thereof). Meanwhile, Jason Bateman does what he does best as the straight man who makes wry, sarcastic comments from the side.
Based on the footage we've seen from the movie so far, this could either be outrageously hilarious or a total misfire. With Blades of Glory helmers Josh Gordon and Will Speck at the helm, it's tough to say whether or not they can come through. While Blades of Glory certainly had some funny moments, it felt a little too close to what Will Ferrell had already accomplished with Talladega Nights: The Ballad of Ricky Bobby. But that movie was only PG-13, so maybe have an R-rating will allow the duo to deliver something even more entertaining.
The rest of the ensemble cast includes Kate McKinnon, Olivia Munn, Jillian Bell, Rob Corddry, Vanessa Bayer, Randall Park, Sam Richardson, Jamie Chung and Courtney B. Vance. If you haven't seen it already, you can still watch the most recent trailer for Office Christmas Party right here.
When the CEO (Jennifer Aniston) tries to close her hard-partying brother's branch, he (T.J. Miller) and his Chief Technical Officer (Jason Bateman) must rally their co-workers and host an epic office Christmas party in an effort to impress a potential client and close a sale that will save their jobs.
Office Christmas Party hits theaters next week on December 9.