New 'Power Rangers' Photos Provide Another Look At Elizabeth Banks As Rita Repulsa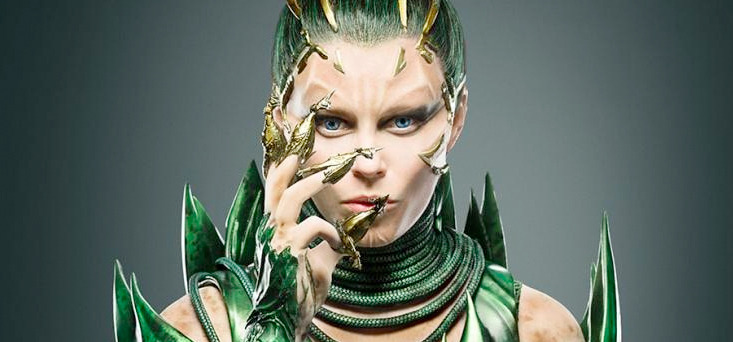 Way back in the spring of this year, we got our first look at Elizabeth Banks as the villain Rita Repulsa in the latest big screen adaptation of Power Rangers. She looks drastically different than she did in the Mighty Morphin Power Rangers series, looking less like a medieval witch and more like an alien vixen from the Species franchise.
Now some new photos of Elizabeth Banks as Rita Repulsa provides another glimpse at the character, this time showing us one trait that took influence from her look in the 1990s TV series. In addition, Rita Repulsa took over the official Power Rangers Twitter yesterday during Cyber Monday to make some truly weird product endorsements.
Check out the new Rita Repulsa photos after the jump.
The above images were posted through the Power Rangers Twitter account. One of the images appears to be a simple promotional photo, but it also provides our first look at Rita's signature staff. The design is definitely inspired by the one that Rita has in the original series with the crescent-moon-shaped top of the weapon.
Meanwhile, the second photo appears to show Rita Repulsa in whatever prison she's been held in. One of the trademark pieces of information in the Power Rangers opening credits was that Rita was kept imprisoned for 10,000 years. We're not sure if she's been locked up that long by the time we meet our new Power Rangers, but presumably it's been awhile since she's been around. There were rumors that the new movie would allow all the previous iterations of Power Rangers to stay intact, so maybe the original Mighty Morphin Power Rangers will be the ones responsible for that.
One thing we do know is that Rita Repulsa apparently loves coyote urine:
#RepulsaMustHaves #2: For whatever reason, I find this particular eau de toilette most appealing. #RepulsaTakesOver https://t.co/DdHO9iN9W3

— Power Rangers (@ThePowerRangers) November 28, 2016
Even though we got quite a lengthy trailer for Power Rangers not too long ago, it offered very little of Rita Repulsa in action, and only a brief tease of the Power Rangers getting suited up. Since the movie opens next spring, we're bound to get a better look at the movie sometime soon.
Saban's Power Rangers follows five ordinary high school kids who must become something extraordinary when they learn that their small town of Angel Grove – and the world – is on the verge of being obliterated by an alien threat. Chosen by destiny, our heroes quickly discover that they are the only ones who can save the planet. But to do so they will have to overcome their real-life issues and band together as the Power Rangers before it is too late.
Power Rangers is directed by Dean Israelite (Project Almanac) and arrives on March 24, 2017.