'Jason Bourne' Sequel Likely To Happen, 'Bourne Legacy' Sequel Less Likely To Happen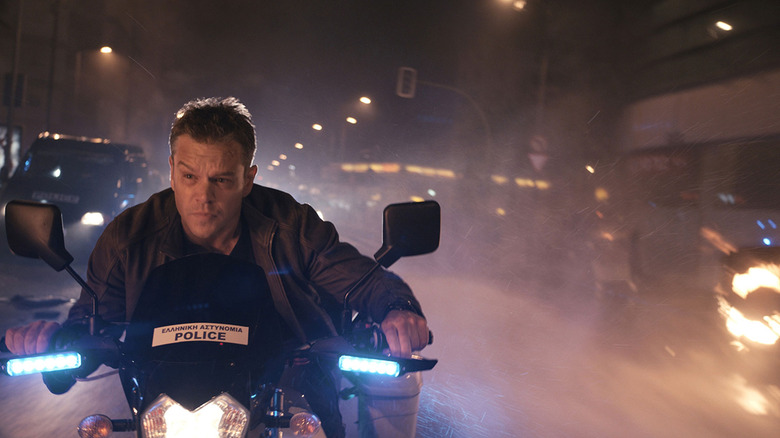 It took a while to get Matt Damon back into the Bourne franchise. But the wait paid off handsomely at the box office, as Jason Bourne took in $415 million worldwide. So the question now, of course, is what's next for the series. Will Damon return again? Will he bring Jason Bourne director Paul Greengrass back with him? And what of Jeremy Renner's Aaron Cross — might Bourne Legacy finally get a sequel?
Producer Frank Marshall addressed these questions and more in a recent interview. Find out what he had to say below. 
While Marshall isn't making any firm announcements at this point, he did drop some hints about the future of Bourne in a conversation with Yahoo Movies UK. Asked whether he'd talked with Greengrass and Damon about the possibility of more Bourne movies, he responded:
I have spoken to them both. Obviously they're very pleased with how the movie turned out. It's really about the story, just like on this one, everyone said 'if you come to us with a good story, we'll think about it.'
So right now, we're taking a pause and then we're going to dive back in and try to find a story. We did leave it wide open at the end of the movie to continue on in Bourne's world so we'll see what we can come up with.
I remember when the Bourne team kept talking about how they were waiting for the right story to make another one. I'd argue that Jason Bourne didn't really turn out to be that story, in the end. It felt like a lazy rehash of themes that had already been explored elsewhere in the series, and suggested the franchise as a whole was running out of ideas. But the movie did make money, and it did end with an obvious set-up for the sequel. A Jason Bourne follow-up seems like an obvious move. Let's just hope it's better than the last one.
Meanwhile, Marshall sounded a lot less optimistic about the possibility of more Bourne Legacy sequels featuring Renner's Aaron Cross. "Probably not. I don't know," he said. "That story is still out there as well but it's not... we're not talking about it." So he's not definitively ruling it out just yet, but it doesn't sound like there's any real interest on that front.
The Bourne Legacy was supposed to open a whole new chapter in the Bourne saga, positioning Renner as the new face of the franchise. (Remember, this was during the era when Damon was still refusing to return.) It didn't exactly work out as planned, as the world collectively responded with a big ol' shrug. Nevertheless, Universal kept trying for a bit to get a sequel off the ground. But once Damon agreed to reprise the role of Jason Bourne the nail seemed to be in the coffin for Aaron Cross.
Are you excited for a Jason Bourne sequel, or do you wish they'd just let this franchise lie? And was anyone really eager to see another Bourne Legacy sequel anyway?