FX's 'Taboo' Trailers: Tom Hardy Comes Back From The Dead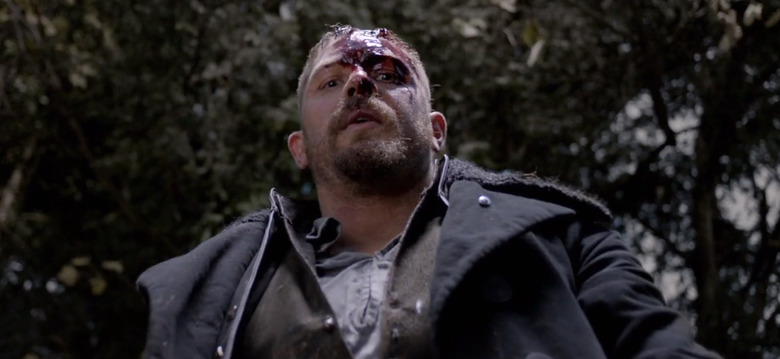 Tom Hardy has already returned to television with his acclaimed turn on the series Peaky Blinders, and now he has yet another promising series on the way in 2017.
Taboo is a new series on FX that has Tom Hardy playing James Keziah Delaney, a man who was thought to be dead who returns home to take over what his left of his father's shipping empire. But there is betrayal, deception, and danger waiting for him in this gritty series set in 1814.
Watch the new Taboo trailers after the jump.
This looks like one dark, grim series, almost like Les Miserables but without all the singing. In addition to the story unfolding back in London, it appears that we'll also get flashbacks to what happened to Hardy's character while he was in Africa. Whatever happened while he was there, it has shaped the deadly serious man he has become, and will surely make him a force to be reckoned with as he takes over his father's business.
Tom Hardy looks to be putting in another remarkable performance, and he's surrounded by quite an ensemble that includes Jonathan Pryce, Oona Chaplin, Stephen Graham, Michael Kelly, Jessie Buckley, David Hayman, Tom Hollander, Jason Watkins, Franka Potente, Jefferson Hall, Ed Hogg, Leo Bill, Christopher Fairbank, Richard Dixon, Mark Gatiss, Nicholas Woodeson, Lucian Msamati and Robert Parker.
Taboo hails from Steven Knight, who wrote and directed Locke, who co-created the series with Tom Hardy and the actor's father Chips Hardy, who is a consulting producer on the show. Ridley Scott and Kate Crowe are also executive producing for Scott Free along with Dean Baker and Tom Hardy through his Hardy Son & Baker banner. The first four episodes are directed by Kristoffer Nyholm while the second four episodes are directed by Anders Engström.
Set in 1814, Taboo follows James Keziah Delaney, a man who has been to the ends of the earth and comes back irrevocably changed. Believed to be long dead, he returns home to London from Africa to inherit what is left of his father's shipping empire and rebuild a life for himself. But his father's legacy is a poisoned chalice, and with enemies lurking in every dark corner, James must navigate increasingly complex territories to avoid his own death sentence. Encircled by conspiracy, murder and betrayal, a dark family mystery unfolds in a combustible tale of love and treachery.
Taboo debuts on FX on Tuesday, January 10 at 10pm ET/PT