Tom Holland May Join Daisy Ridley In Doug Liman's YA Movie 'Chaos Walking'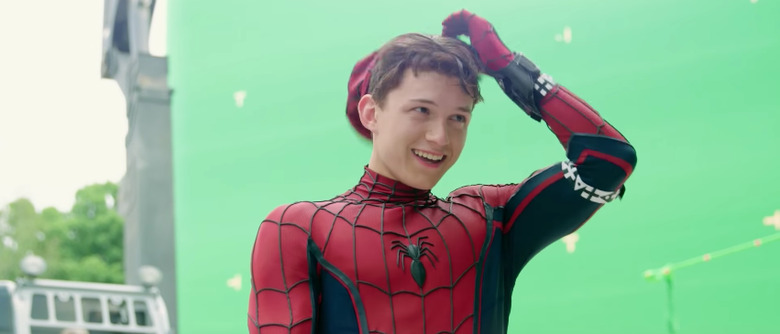 Actor Tom Holland might live in a world populated entirely by men for director Doug Liman (Edge of Tomorrow). The Spider-Man: Homecoming star is currently in talks to act alongside Daisy Ridley in the post-apocalyptic YA movie Chaos Walking, based on part one of author Patrick Ness' trilogy. Lionsgate is eyeing a 2017 production start date for the film.
Below, learn more about the Tom Holland Chaos Walking casting news.
According to The Hollywood Reporter, Holland, whom we also saw in The Impossible and heard in Locke, would play Todd Hewitt, a boy who's never seen a woman in his life. Part one of the Chaos Walking series, The Knife of Never Letting Go, is set in a horrific future where men have the "noise." The noise gives all men the capability to hear each other's thoughts. One day Todd and his dog escape town, and while the townsfolk chase after him, he discovers a woman named Viola Eade (Ridley).
Here's the book's synopsis:
Todd Hewitt is the only boy in a town of men. Ever since the settlers were infected with the Noise germ, Todd can hear everything the men think, and they hear everything he thinks. Todd is just a month away from becoming a man, but in the midst of the cacophony, he knows that the town is hiding something from him — something so awful Todd is forced to flee with only his dog, whose simple, loyal voice he hears too. With hostile men from the town in pursuit, the two stumble upon a strange and eerily silent creature: a girl. Who is she? Why wasn't she killed by the germ like all the females on New World? Propelled by Todd's gritty narration, readers are in for a white-knuckle journey in which a boy on the cusp of manhood must unlearn everything he knows in order to figure out who he truly is.
The one and only Charlie Kaufman (Anomalisa) once worked on Chaos Walking. The screenwriter was involved in the project back in 2012, a year before Robert Zemeckis began considering the adaptation. After Jamie Linden (Money Monster) had written the latest draft of the script, the project went to Doug Liman, who's been busy these days. He's currently in post-production on American Made, and he's got Dark Universe, a.k.a. Justice League Dark, coming up in the near future. It appears he'll direct Chaos Walking next, but we'll see what happens.