'Rogue One' Featurette: Diego Luna Takes You To A Galaxy Far, Far Away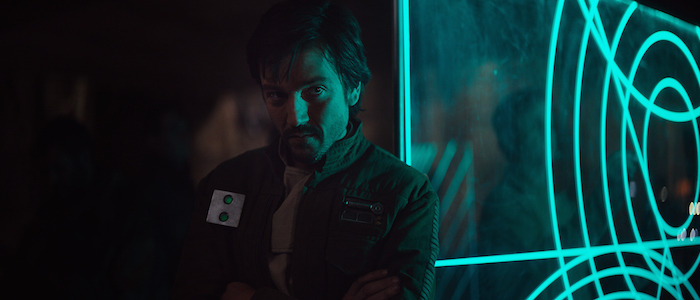 In the months leading up to the release of Rogue One: A Star Wars Story, it feels like we've talked about every character in the movie except Diego Luna's Captain Cassian Andor, whose role appears to be "straight-laced soldier who has to wrangle together all of those strange rebel misfits." Since I like Luna quite a bit and am eagerly awaiting to see him contribute to the Star Wars universe, this new featurette focusing on his experiences on the set of the film feels like it arrived at the just the right time.
Although not very long, this brisk featurette offers a few snippets of new footage from the movie as well as a lot of behind-the-scenes b-roll focusing almost exclusively on Luna. As you'd expect, Luna seems to be having a grand 'ole time on the set of a Star Wars movie, often appearing downright giddy as he talks to the camera about the experience. Yeah, I think most fans can understand that feeling.
We're currently in "full saturation" mode when it comes to Rogue One marketing, with some new TV spots
offering more details than the earliest trailers
while others
lean heavily on the most recognizable iconography possible
to convince stragglers that they should get excited about this movie. There don't seem to be too many stragglers, though – when tickets
, the internet broke again, much like how it couldn't bear the stress of Star Wars: The Force Awakens ticket demands last year. Rogue One is
currently tracking for a $130 million opening weekend
, which is a little less than half of The Force Awakens' opening haul, but everyone expected that drop.
Rogue One: A Star Wars Story will open on December 16, 2016.
From Lucasfilm comes the first of the Star Wars standalone films, "Rogue One: A Star Wars Story," an all-new epic adventure. In a time of conflict, a group of unlikely heroes band together on a mission to steal the plans to the Death Star, the Empire's ultimate weapon of destruction. This key event in the Star Wars timeline brings together ordinary people who choose to do extraordinary things, and in doing so, become part of something greater than themselves.
Rogue One: A Star Wars Story" is directed by Gareth Edwards and stars Felicity Jones, Diego Luna, Ben Mendelsohn, Donnie Yen, Mads Mikkelsen, Alan Tudyk, Riz Ahmed, with Jiang Wen and Forest Whitaker. Kathleen Kennedy, Allison Shearmur and Simon Emanuel are producing, with John Knoll and Jason McGatlin serving as executive producers.