Latest 'Rogue One' TV Spot Teases Return Of Another Classic 'Star Wars' Villain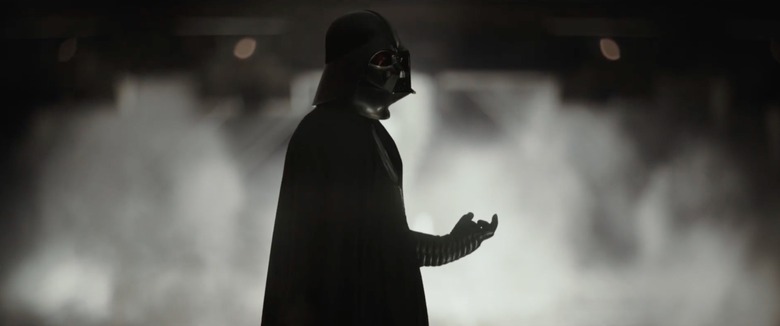 If you're like us, there's a good chance you're feeling a bit groggy this morning after staying up late to snag tickets to the opening weekend of Rogue One: A Star Wars Story. You don't need another TV spot to tell you if you should see this movie, because you've already committed your hard-earned cash to it. But maybe you'd like to know a bit more about what, exactly, it is that you've bought.
A new Rogue One TV spot offers another taste of the next entry in the franchise. Which, despite being billed as a spinoff and featuring a largely unfamiliar cast of characters, boasts plenty of connections to the original Star Wars movies. Like the villains. We've known for some time that Darth Vader would make an appearance in the film, but the newest promo teases the return of another classic baddie as well. Click through to watch the latest Rogue One TV spot. 
Rogue One TV Spot
The new Rogue One spot goes all in with the Darth Vader allusions, opening with his heavy breathing and finishing with the iconic "Imperial March." But a few seconds in, we get a glimpse of another familiar-looking figure. He's only seen from behind, but that sure looks like Grand Moff Tarkin gazing out the window at the construction of the Death Star.
His involvement in Rogue One isn't entirely unexpected. We've heard before that he's got a bit of a rivalry going with Rogue One's primary villain, Orson Krennic (Ben Mendelsohn), and the Rogue One prequel novel Catalyst dug even further into their not-so-cozy relationship. Narratively, it makes perfect sense for Tarkin to pop up in this movie. The bigger question is how the production pulled it off logistically. Peter Cushing, who played Tarkin in A New Hope, died over 20 years ago, so we know he's not reprising his role. Is it a particularly impressive stand-in? Cutting-edge CG? Some combination of both?
Rogue One: A Star Wars Story is in theaters December 16, but you probably already knew that.
From Lucasfilm comes the first of the Star Wars standalone films, "Rogue One: A Star Wars Story," an all-new epic adventure. In a time of conflict, a group of unlikely heroes band together on a mission to steal the plans to the Death Star, the Empire's ultimate weapon of destruction. This key event in the Star Wars timeline brings together ordinary people who choose to do extraordinary things, and in doing so, become part of something greater than themselves.
"Rogue One: A Star Wars Story" is directed by Gareth Edwards and stars Felicity Jones, Diego Luna, Ben Mendelsohn, Donnie Yen, Mads Mikkelsen, Alan Tudyk, Riz Ahmed, with Jiang Wen and Forest Whitaker. Kathleen Kennedy, Allison Shearmur and Simon Emanuel are producing, with John Knoll and Jason McGatlin serving as executive producers. The story is by John Knoll and Gary Whitta, and the screenplay is by Chris Weitz and Tony Gilroy. "Rogue One: A Star Wars Story" opens in U.S. theaters on December 16, 2016.