'The Belko Experiment' Teaser: James Gunn Brings A Battle Royale To The Office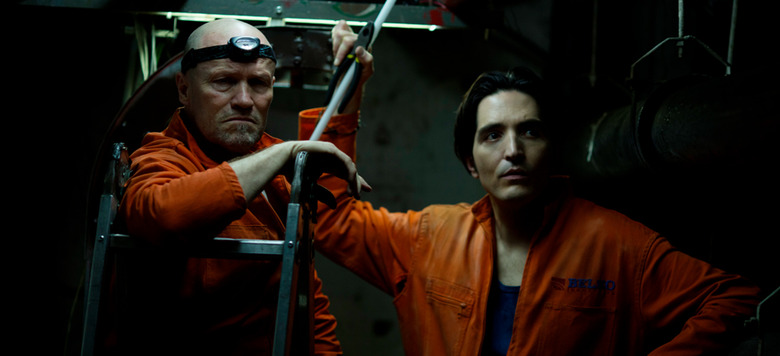 While many are looking forward to Guardians of the Galaxy Vol. 2, before that we'll get a chance to see another film that director James Gunn worked on as a writer before getting behind the camera of the Marvel Studios sequel.
The Belko Experiment is scripted by James Gunn but directed by Wolf Creek helmer Greg McLean, and it takes the intensity of The Hunger Games or Battle Royale and throws it into an every day office. Sure, you may have fantasized about unleashing fury on one of your co-workers after they took the last donut, but given the opportunity, would you actually be able to kill them? That's the dilemma that will be faced by the employees in The Belko Experiment teaser that just debuted.
Led by John Gallager Jr., the film sees a normal day at some kind of non-profit company turn into a bloody mess featuring Tony Goldyn, John C. McGinley, David Dastmalchian and James Gunn's usual collaborators Michael Rooker, Sean Gunn and Gregg Henry. However, as twisted and fun as all this sounds, Matt Goldberg at Collider didn't find much merit in the movie when he caught it at the Toronto International Film Festival:
The Belko Experiment is a nonstop parade of ugliness masquerading as insight. Working from a script by James Gunn, McLean wants a film that can both horrify and titillate his audience, but all he can do is churn our stomachs with nihilistic violence.
Dennis Harvey at Variety was more forgiving, but doesn't think it's anything remarkable, saying:
As a self-aware guilty pleasure, "The Belko Experiment" may not quite seize greatness, but it does give it a playful squeeze.
We'll get a better idea of what to expect from this movie when the full trailer debuts on November 30th this week, so come back here to see what kind of craziness is in store. In the meantime, here's the official synopsis from the film's debut at TIFF earlier this year:
It at first seems to be an ordinary morning on the job for a group of Americans working for a not-for-profit in a modern office building in Colombia. After noticing that their Colombian colleagues have not arrived for work, office worker Mike (John Gallagher, Jr.) spots some unfamiliar security guards entering a large hangar nearby. Moments later, an icy voice comes over the building's PA system and calmly explains that the employees must kill a certain number of their co-workers — if not, they will be killed themselves. While the boss (Tony Goldwyn) tries to calm the troops, Mike belatedly realizes that something truly sinister is going on — and when metal doors come sliding down on all the building's exits and windows, it becomes clear that friends and colleagues are now suddenly enemies in a bloody and brutal battle to the death.
The Belko Experiment arrives on March 17, 2017.