'Fences' Trailer: Denzel Washington & Viola Davis Are Delivering Powerhouse Performances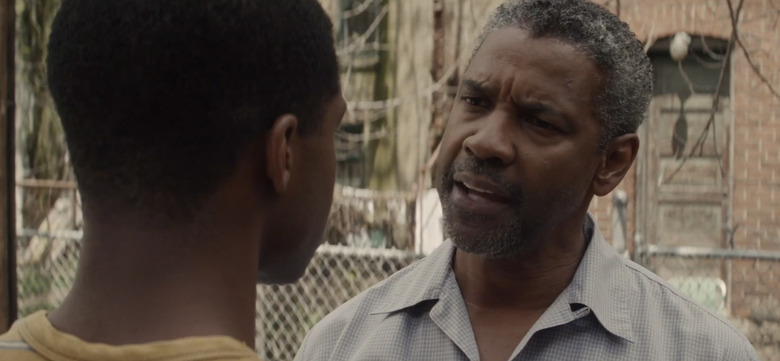 Awards season is heating up, and today we get a better glimpse at what is sure to be one of the key contenders.
Fences is an adaptation of August Wilson's play of the same name with Denzel Washington directing, not to mention reprising the role that won him a Tony Award back in 2010 for his performance on Broadway. His stage co-star Viola Davis is also joining him, and if the new Fences trailer is any indicator, the two have clearly delivered Oscar caliber performances that will likely land them nominations when the time comes next year.
Watch the new Fences trailer after the jump.
This looks intense and powerful, a film that will likely be hard to swallow around Christmas for some families who have endured hardships like this. Even for families who feel like they're perfectly, fine this drama looks to be one of those that will pull tears right out of your face.
After directing Antwone Fisher and The Great Debaters before this, films that were warmly received but not necessarily awards worthy, Denzel Washington might also find himself chasing a directing Oscar if all goes well. But it might be too early to tell with so many movies left to be released this awards season. At the very least, this looks like it could be his best film yet, and there are supposed to be several more of August Wilson's plays that Denzel Washington will direct, perhaps as many as 10.
In addition to Washington and Davis, the rest of the cast includes Jovan Adepo, Stephen McKinley Henderson, Russell Hornsby, Mykelti Williamson and Saniyya Sydney.
Troy Maxson, is a strong man, a hard man. He has had to be to survive. Troy Maxson has gone through life in an America where to be proud and black is to face pressures that could crush a man, body and soul. But the 1950s are yielding to the new spirit of liberation in the 1960s, a spirit that is changing the world Troy Maxson has learned to deal with the only way he can, a spirit that is making him a stranger, angry and afraid, in a world he never knew and to a wife and son he understands less and less.
Fences arrives in theaters on December 25.