LOL: Lin-Manuel Miranda Slurs Through The Story Of 'Hamilton' In A New 'Drunk History' Clip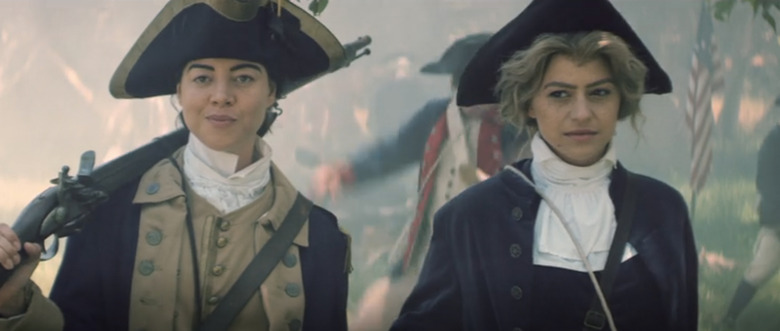 You might remember that over the summer Comedy Central announced that Hamilton creator Lin-Manuel Miranda had been recruited for the fourth season of their Emmy-winning series Drunk History. Just as everyone assumed or hoped, Miranda is telling the story of Alexander Hamilton and his rivalry with Aaron Burr. But this time, they're being played by Parks and Recreation star Aubrey Plaza and Arrested Development actress Alia Shawkat.
Watch the Lin-Manuel Miranda Drunk History clip after the jump.
In addition Lin-Manuel Miranda drunkenly telling the story of Alexander Hamilton, other guest stars tossing back a few and telling stories or appearing in reenactments include Green Day frontman Billie Joe Armstrong, Steve Berg, Rachel Bilson, Michael Cera, Josh Charles, Kat Dennings, Ben Folds, Dave Grohl, Tony Hale, Ed Helms, Thomas Middleditch, Liev Schreiber, Duncan Trussell and more.
Other stories told this season include Paget Brewster talking about the friendship that blossomed between Eleanor Roosevelt (played by Busy Phillips) and Soviet soldier Lyudmila Pavlichenko (Mae Whitman), and Allan McLeod (You're the Worst) recalling the heated debate as to whether British actor William Macready (Jack McBrayer) or American actor Edwin Forrest (David Koechner) was the better talent.
If you want to see more from Drunk History's fourth season, you can catch the trailer right here. But if you're only interested in the Lin-Manuel Miranda episode, it will air on November 29th at 10:30 pm ET on Comedy Central. Plus, I wholly recommend seeing Disney's magical Moana, featuring original songs co-written by the Broadway star.