'Emerald City' Trailer: 'Wizard Of Oz' Meets 'Game Of Thrones' On NBC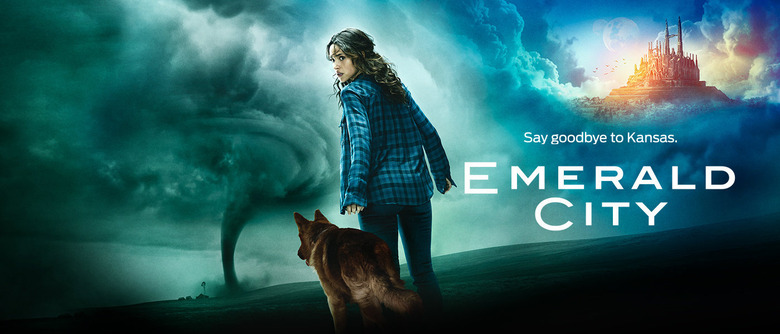 If you've ever watched The Wizard of Oz and wished it played more like a low-rent version of Game of Thrones — or, conversely, if you've ever watched Game of Thrones and thought it could use some Wizard of Oz insanity — then Emerald City might be for you. The new NBC series from Tarsem Singh reimagines L. Frank Baum's classic adventure as a grown-up fantasy drama. A young cop named Dorthy Game is whisked off to a far-off realm where she must contend with witches, warriors, sky portals, and Vincent D'Onofrio.
Watch the Emerald City trailer below.
Emerald City Trailer
Are you a good witch, or a bad witch? #EmeraldCity pic.twitter.com/i63ign97xC

— Emerald City (@NBCEmeraldCity) November 23, 2016
The path to Emerald City has had more twists and turns than the Yellow Brick Road. First ordered to series all the way back in 2014, it was scrapped just months later, before it ever had a chance to air. It was revived a few months after that, with Singh set to direct all ten episodes of the first season. Now it's finally on its way to premiere in 2017, three years after NBC first granted it a series order. Adria Arjona (Person of Interest) stars as Dorothy Gale, D'Onofrio plays the Wizard, and Oliver Jackson-Cohen the Scarecrow.
The question now is whether Emerald City will turn out to be worth all that trouble, and based on that trailer... I don't know, guys. It looks bonkers, that's for sure. But it is it crazy in a fun way, like Sleepy Hollow season one, or crazy in a boring and terrible way, like Sleepy Hollow season two? Is it awkward that the Scarecrow is sexy now, and that Dorothy clearly has the hots for him? Is this show taking itself way too seriously, or just seriously enough? Is it odd that the witches of Oz are running around in push-up bras? Are D'Onofrio's extensive hairpieces at all convincing? These are the pressing questions we'll need answered when Emerald City premieres Friday, January 6 at 9/8c on NBC.
In the blink of a tornado's eye, 20-year-old Dorothy Gale and a K9 police dog are swept into a world far removed from our own – a mystical land of competing realms, lethal warriors, dark magic and a bloody battle for supremacy. Starring Vincent D'Onofrio (Daredevil, Jurassic World) as the guileful Wizard and directed by the visionary Tarsem Singh across three European countries, this is Oz completely reimagined – a place where familiar characters show up in fresh, unexpected ways, and where an unsuspecting young woman holds the fate of kingdoms in her hands. And as Dorothy navigates this dangerous world and uncovers her true destiny, we'll see there's no place like... Oz.