'Passengers' Trailer: Jennifer Lawrence And Chris Pratt Are Stranded In Space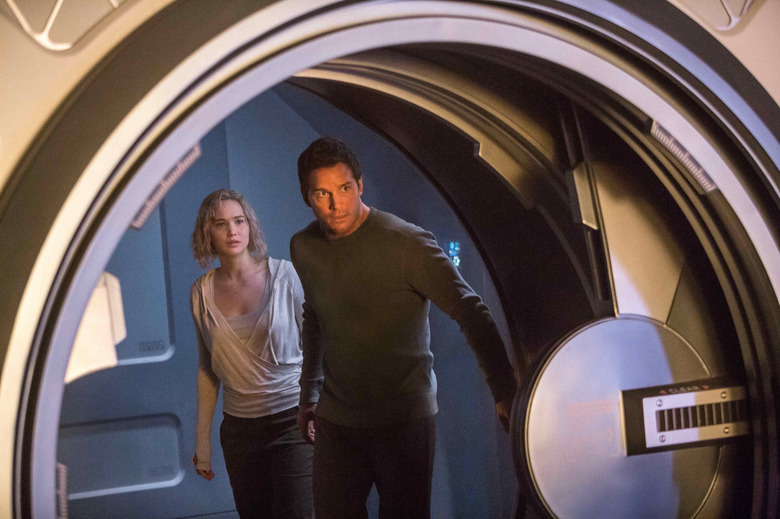 I suspect a great many people would be perfectly happy to find themselves stranded in space with nothing to do but make out with Chris Pratt and/or Jennifer Lawrence and trade witticisms with a robot bartender who looks like Michael Sheen. But the characters in Passengers apparently don't feel that way. In the new sci-fi romance directed by Morten Tyldum, Jim (Pratt) and Aurora (Lawrence) are panicked to realize they've come out of hibernation 90 years early en route to another planet.
To be fair, it looks like they've got good reason to freak out. It slowly dawns on them that they were woken up for a reason, that they're in great danger, and that there's very little they can do about their imminent doom. Now, if it were me, I'd probably just go back to that robot bartender and keep drinking until the bitter end. But there's a reason no one's making movies about me. Jim and Aurora are more proactive types, who set out to get to the truth about their situation and prevent the worst from happening. Watch the Passengers trailer below.
Passengers Trailer
The footage released for Passengers so far has been good, not great, but there's every reason to hope for the best. Lawrence and Pratt make for an incredibly appealing pairing, and Tyldum has done fine work with films like Headhunters and The Imitation Game. The script by Jon Spaihts has also drawn tons of praise in the past, even landing on the Black List several years back. Plus, it's an actually original sci-fi film at a time when most of the genre has been taken over by bloated franchises.
STX, for once, seems to think Passengers is going to do pretty well — they were nervous enough to move their own space romance, Asa Butterfield's The Space Between Us, to February 3 to avoid competing with Passengers next month. If you're sold, you can check out Passengers when it hits theaters December 21.
Jennifer Lawrence and Chris Pratt are two passengers onboard a spaceship transporting them to a new life on another planet. The trip takes a deadly turn when their hibernation pods mysteriously wake them 90 years before they reach their destination. As Jim and Aurora try to unravel the mystery behind the malfunction, they begin to fall for each other, unable to deny their intense attraction... only to be threatened by the imminent collapse of the ship and the discovery of the truth behind why they woke up.